Instant Transfer With Routing Number and Account Number
Routing and account numbers are required for online payments using electronic devices like phones, paying bills and processing checks.
Banks need the routing number and account number in money transferring, so they can identify the receiving bank. But, can you make an instant transfer with routing and account number without verification?
Yes, you can make an instant transfer with a routing and account number, and we explain how below!
Table of Contents
Instant Transfer With a Routing Number and Account Number Without Verification?
Instant money transfers are definitely possible with a checking account number to a recipient if you both have the same bank. This means you can transfer funds with routing and account number from one bank to another.
A routing number, also known as ABA routing number or RTN (routing transit number), is the nine-code digit number used to identify where an individual opened their bank account.
Alternatively, Zelle provides the quick transfer option as well. Chase also has a service called Quick pay. Other people using either Chase themselves or another bank can accept transfers from a Chase transfer.
Chase QuickPay is not unique, as Wells Fargo SurePay and Capital One P2P Payments are similar. It's also cheap as compared to transferring money to an account of a different bank.
Before you can make an instant transfer with a routing and account number, you should know where to find those numbers!
Read More: Can You Send Money From Zelle to Cash App? Not directly, but there's a workaround to get money through!
What Is a Routing Number?

A routing number is a code used for recognizing the location of where you initiated your bank account. It has 9 digits and is also called routing transit number or ABA routing number.
You quickly find the routing number online when you log in to your online banking account or at the bottom left of the drafts as the first group of the bank account numbers.
Transferring money using the routing number and the account number is efficient and comfortable regardless of the amount involved.
A routing number comprises the first four digits, which is the symbol of the Federal Routing, followed by four digits, which are identifiers of the American Bankers Association institution (ABA), and the last single check digit.
What Is the Account Number?
An account number is a single string of numbers and letters and other characters identifying an account's owner and grant access.
In today's electronic age, the most critical account number for many people is the checking account number.
What Is ACH?
The Automated Clearing House (ACH) Network is an electronic money-transfer system run by NACHA, since 1974, formerly called the (NACHA) National Automated Clearing House Association.
This payment system contributes to ACH transactions for payroll, direct deposit, tax payments, tax refunds, consumer bills, and many more payment services in the U.S.
What Is the Difference Between the Routing Number and Account Number?
Routing numbers are single to banks and their branches. The routing number facilitates the speedy transfer of money from one bank to another.
This number signifies electronic transfers of typically small payments, such as utility bills, that may be made once or regularly.
There are several types of transfers, each outstanding by a specific code. ACH routing numbers are always 9 digits long, and the first 2 digits often range from 61 to 72.
This number may be the equivalent routing number on your checks, but they can be modified, so you should test with the bank or within your online banking portal before using it.
A routing number will be labeled as a "direct deposit" or "electronic deposit."
The short video below further explains the differences between these two very important numbers:
Account Number
You are probably considerably familiar with your bank account number. Every bank account has a unique account number, relative to a customer ID or fingerprint.
Account numbers are less regulated than ACH numbers, ranging from 8 to 12 digits in most cases. While you share the exact ACH routing number as all the other consumers at your bank, your account number is uniquely your own.
You can find both the routing number of your bank and your account number on a paper check or in your online account.
You need both numbers to electronic setup transactions, like having your paycheck undeviatingly transferred into your account or setting up your chain bill for autopay each month.
How Can I Transfer Money Instantly Using My Account and Routing Number?
The following banks offer fast (clearXchange) payments networks:
Bank of America
Capital One P2P Payments
Chase QuickPay
FirstBank Person to Person Transfers
Frost Send Money
U.S. Bank Send Money
Wells Fargo SurePay
If you're looking to send money with a checking account number instantly, it takes a shorter time to transfer money to an account of the same bank. The money reflects within hours in the recipient account.
If you know how to transfer money from one debit card to another, then you know how to send money to another account.
Using your banks online banking services, you can send money within the shortest time possible. Today, we have mobile money banking services which use phone numbers as account numbers.
You can send money and it reflects instantly in the account you are sending to. It helps to solve urgent financial problems.
The biggest attention you should pay when sending money to an account number is to ensure that you confirm the details of the account properly.
If you send money to the wrong account number, you may lose the money immediately. However, some companies can reverse before the wrong recipient withdraws the money.
What App Can I Send Money With Routing and Account Number Without Verification?
Have you asked yourself, what can I pay with my routing and account number? One of the apps that complete ACH transfers is Zelle.
What Apps Do ACH Transfers?
While most ACH transfers can take 3 to 5 days to go through, it is possible to speed up the process.
Zelle is a service that numerous U.S. banks have worked to provide to their consumers. If your bank allows Zelle transfers, you can send money to a beneficiary within minutes.
Zelle should show up in your banks transfer tab:

Using Zelle, your bank sends the money to your recipient instantly. Later, the transaction will be finalized through standard ACH processing.
With Zelle, you can receive and transfer money by simply providing your mobile number or email address. Zelle is free to use, and most banks in the USA have it integrated in their platform.
Transfer limits depend on the bank, if a bank doesn't offer Zelle, the maximum you can send a week is $500.
Can I Transfer Money With Just Account and Routing Number (and Between Banks)?
From either your online banking account or your banks app, begin the money transfer process by adding the receiver's account number and routing number.
This process of sending money is easily done from your own personal accounts or other individuals, and I will walk you through the process:
I will use the Chase platform as an example: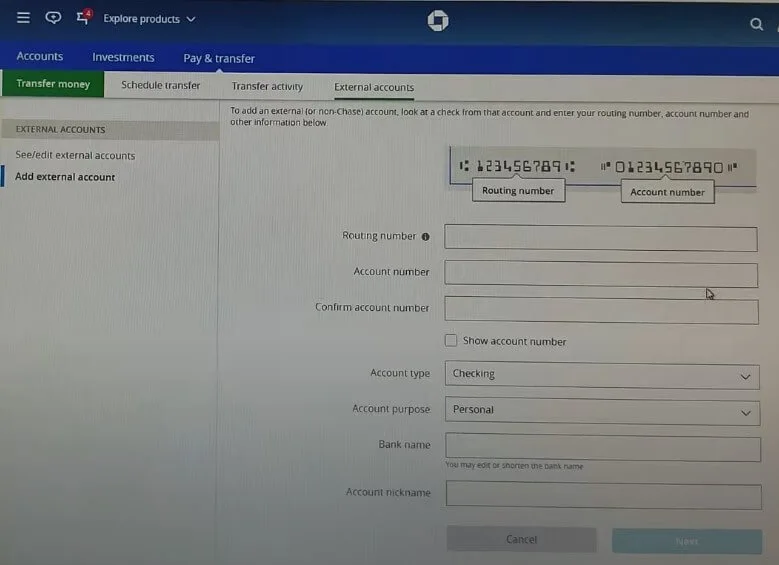 log in to your bank account through your mobile app or the bank's website.
Navigate to the "pay & transfer" or equivalent, money page
Choose External accounts or something similar
Click on the "Add external account" transfer or something similar.
Once there, you will fill in the details in all the blank fields.
Once the account information has been saved, the bank will want to confirm the details match.
Sometimes the bank will ask you to verify the amounts of two small deposits and sometimes a withdrawal
Follwing that, you can initate the transfer!
Some bank accounts won't allow you to transfer to a 3rd party, so you may be restricted to only transferring to your own account.

There are various ways one can use to transfer money from one account to the other. For instance, I can transfer money from a prepaid card account to a debit card account.
I have to master how to transfer money from my prepaid card to a debit card before performing any transfer.
What Can I Pay With My Account And Routing Number?
What can I pay with my account and routing number? Many online stores allow you to pay using your routing and account numbers.
Amazon, Walmart & Ebay are just a few to offer account payment options. Most utilities and city taxes will offer options to pay via ACH as well, and the set up is quite easy if you know where to look.
Amazon, for example, you can use your checking account to pay:
At the Shipping & Payment stage of the checkout process, choose Add a checking account.
Add your bank routing number and account number.
Complete the name and the address of the principal account holder.
Add either the main account holder's U.S. driver's license number or state-issued ID number, and the issuing state.
Keep in mind, the account must be an ACH-enabled checking account at a bank branch located within the USA.
Send Money With Checking Account Number
A routing number is very important when it comes to transferring funds from one bank to the other. You do not need an account number only as it is for account to account transfer in the same bank.
When choosing to transfer money to a different bank, it is essential to ensure that you have the correct account numbers and the routing numbers of the recipient, as they are crucial requirements.
The options of transferring money either domestically or internationally include:
Bank to bank funds transfer.
Using Bill pay, also known as online transfer or payments.
Using services that the recipients sign up to receive money from the sender's account, for instance, the recipient may receive an email with a link to a form requiring them to fill their bank details for the transfer.
The sender depositing money directly to the recipient bank using the recipients accounts number and their routing number.
The sender transferring money to a recipient using online banking apps without the bank's intervention.
The sender using check transfer method whereby he or she has to fill in the amount of money to be send and either deposit the check at the bank or send by mail.
The Sender using money order whereby he or she can send money by mail after providing your bank details. Most of them require you to understand how to send money with account and routing number.
1) Bank to Bank Funds Transfer
This service is beneficial when sending money to those people who cannot use phones. They need to visit banks personally and get cash directly from the cashier.
You can use TransferWise, which applies both inside and outside the United States of America.
When doing domestic bank transfers, you incur fewer charges as compared to international shipments. This allows you to send money with checking account number anytime you need to do so.
TransferWise began as a peer-to-peer method of sending money. However, today, it has connected with the local banks. Currently, it supports multiple currencies.
You can get a free multi-currency borderless account. You incur currency exchange fees.
However, here we are learning transfer money using routing number & account number and Transfer Money From Checking Account To Prepaid Card Online.
Pros of Using the Bank to Bank Transfer
Very fast and convenient. The transfer takes 1-2 business days.
The recipient is not directly involved but waits to withdraw the money.
The method is beneficial for both domestic and international money transfers. Wherever the recipient may be, he or she can get cash with account and routing number.
The method allows you to send small amounts by using a debit card.
2) Check Transfer
This method is simple. You fill in a check, indicating the amount you want to pay in full. Fill both in figure and words, and make sure you close it so that no one tampers with it.
You can submit the check yourself to the bank or hand it on the recipient to send. Electronic checks require transfer money using routing number. 
3) Send by Use of Money Order
This method allows you to send money by mail and is one of the traditional methods of cash transfer. It is easier to get the sending process canceled. You must keep the receipt to trace lost money. 
4) Can I Load a Prepaid Card With Account and Routing Number?
For you to use a prepaid card to make any payment, you have to recharge it with money. Once the money in the card is used, the card becomes useless.
Remember that a prepaid card is totally different from a debit card in that, it cannot use your bank accounts money unless you recharge it. If you have a bank account, it becomes easy to load your prepaid card.
You can make an online money transfer using an online checking account such as PayPal, Payoneer or Skrill among others.
Again, you can visit your bank and recharge your card by authorizing money transfer to the prepaid card's account. Moreover, you can use your banks online services to send money to the prepaid card's account.
You should take caution when using online money transfer. If you are using a public computer, you should be very careful that no one is looking at what you are doing.
Again, remember to erase all the browsing history after logging out of your account. In fact, the best way to use online banking services is to use your bank's app in your smartphone.
Apps are difficult to hack and thus more secure.
5) How to Withdraw Money With Account and Routing Number
A good number of people send money to family and friends for various reasons, like helping with bills and school fees, assisting parents at home and funding individual projects when one is away.
Getting money with the account and routing number is easy and efficient regardless of the amount one needs to send.
Someone can use an online money transfer option to send you money to your account upon providing them with your account number and routing number in the case of a different bank from your bank.
When someone needs to transfer a large amount of money to you, they can contact a bank to deliver a personal or cashier's check, which you can deposit at their bank for cash.
Some banks have apps that can help you to deposit checks using your mobile phone. In this case, the bank requires the routing number and account numbers of both you and the sender.
Receiving a cashier's checks is the best option if you need money urgently since you can have it as soon as you cash the check as opposed to regular checks, which require a few days for processing.
There may be no fee required to complete the fund' transfer, but it is essential to inquire from the bank.
| See: The 15 Best Buy Now Pay Later Bad Credit No Deposit Stores |
How Do I Make an ACH Transfer?
Initiating an ACH transfer with your routing and numbers is customarily pretty straightforward. These are the actions that you will need to take:
1. Locate Your Account Number and Routing Numbers
If you still have paper checks around, that is one of the easiest places to find your routing and account numbers. Your routing number will be the 9 digit code on the far left-hand side of the check.
Your account number will typically be 10-12 numbers and will often be the center set of numbers. Your check number will generally be placed on the far right.
Depending on your bank, your check number and account number placement could be different. If you are unsure, the larger number will be your account number, and the smaller number will be your check number.
If you do not have checks lying around the house, you should also be able to locate your account and routing numbers by logging onto your bank's online portal and looking for your bank account and routing number there.
Failing that, going to a local branch is your best bet.
2. Update Your Bill Payment Methods to 'ACH Payments' and Provide Your Banking Information
Once you have your routing number and account numbers, you'll need to implement this information to whichever company you desire to pay via ACH.
You will often be asked to type in your routing number once and your account number twice. Be careful when you are typing in these numbers.
You do not want to make any misunderstandings and cause a hiccup in the method.
3. Initiate Your ACH Transfer at Least a Few Days Before Your Bill Is Due
ACH resignations typically take 3 to 5 days to process. Many companies will regard payment as "on time" as long as the due date initiated it. But just in case, you may need to send your payment a few days early.
You will also want to keep the processing time in mind if you are on the receiving end of an ACH payment from a friend or a client.
4. Make a One-Time Payment or Set Up Recurring Payments if Available
Once you have provided your routing number and account number to a servicer, many will establish automatic recurring payments. This could accommodate you automate your bills even further.
Keep in mind, though, that it may necessitate one to two billing cycles for your automatic ACH withdrawals to take influence.
You may require using one or two more one-time payments until your recurring payment calendar begins. This is especially prevalent with credit card bill payments.
How to Send Money to a Mobile Wallet?
There are some steps to send money to a mobile wallet. Those steps are given below:
1) Send Online or in the App
Using the Fee Estimator, select the 'Mobile Wallet' receive method.
2) Send In-Store Using Cash
Visit one of the MoneyGram convenient locations to send money directly to a mobile wallet.
3) Provide Your Receiver's Information
Online and in-store, give us their full legal name and mobile number, including international dial code, to send to their mobile wallet.
Can I Load a Prepaid Card with Routing and Account Number?
A prepaid card is a special card that you can use to buy goods and services. It resembles the ordinary debit and credit cards in physical appearance.
Unlike credit and debit cards, a prepaid card does not require you to have an account. However, people with bank accounts can as well have prepaid cards.
A prepaid card does not require you to have a good credit record because you have to deposit money in the cards account in order to use it.
Once the money in your card depletes, you can then recharge it at your issuer's center. Again, you can use an online checking account and send money electronically to the cards account number.
Many banks give prepaid cards to their customers. Banks such as Bank of America give prepaid cards to their customers to help them do convenient payment for goods and services .
You can recharge Bank of America prepaid card from any bank so long as you have the routing number of the bank. Many people do not know how to find the routing number for Bank of America.
To know the routing number of your Bank of America's branch, you can visit the bank's website and search your state.
Bottom Line
Sending and receiving money has really revolutionized the world. Today, you can send money to a person in America, Australia or even in China and it reflects within hours.