The Best 8 Wireless Speakers for Samsung TV
As tech keeps on evolving, so does sound speakers. Over the years, we have transitioned from using 3.5 mm jacks on speakers to wireless speakers that come with long battery life and a stunning sound listening experience. The wireless speakers for Samsung TV are a good example of such wireless speakers with features like ULtra Bass, Dolby Atmos support and so much more.
There are many types of wireless speakers which have led many to question the authenticity of such devices when they need to get one for their Samsung TV. Most of these speakers are of high quality while others are shipped as not what was advertised by the manufacturer. Choosing the right wireless speakers can be a hard choice for many but I will guide you on some tips to get the best deals.
This article will feature the best soundbar with a built in subwoofer among other Wireless speakers compatible with Samsung TV. We will also look at some key features to look out for when buying such devices to avoid choosing a fake wireless speaker.
What to know before choosing the best wireless speakers for Samsung TV?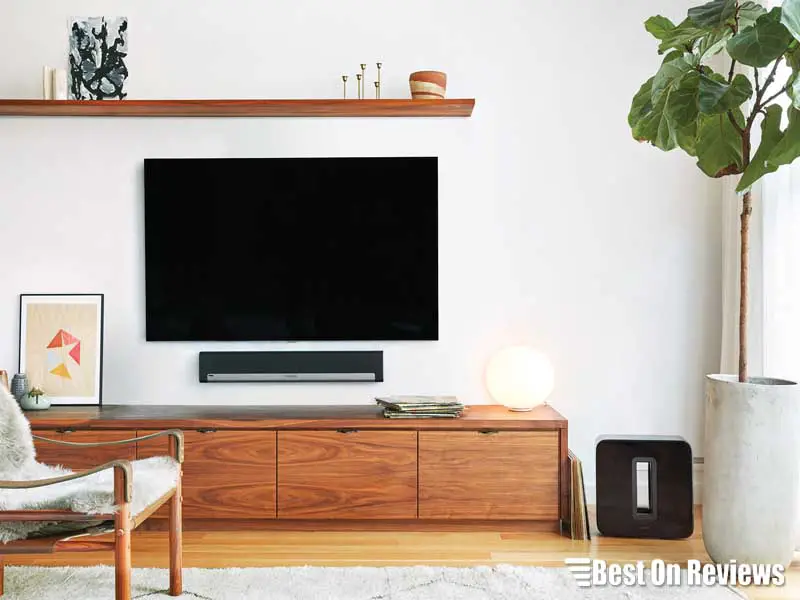 i) Warranty
The speaker should come with a valid warranty that most preferable should be 1 year and above. This will ensure you can get replacement in case the speaker turns out faulty.
ii) Customer support
Having dedicated customer support for a wireless speaker ensures that if there are any issues, you can contact them and they will be able to help
iii) Body design/Hardware quality
The body design should be great to ensure it suits any home decor. Most speakers come in black colors and easily blend in with any home decor. The hardware should be of high quality to prevent damage in case it falls down.
iv) Wireless connectivity
WIreless connectivity is a key aspect here. The device should be able to connect through preferably via Bluetooth, WIFI and any wireless means.
v) Automated optimization
Automated sound optimization lets the speaker adjust itself for any listening mode. It can automatically know when you are watching a movie, listening to music and adjust to suite the perfect listening experience.
Top 8 wireless speakers for samsung TV
1) Samsung HW-K550 3.1
The Samsung HW-K550 is a great value for your money if you are looking for best soundbar for a large room. The sound system comes with a center channel speaker that offers a good experience with clear and balanced sound. You also get 6-built-in speakers that come with a dedicated amplifier to provide the best listening experience.
For the best experience, the speakers are wireless surround ready giving you the ability to add the SWA-8000S surround sound kit to enjoy an immersive listening experience. On selected Samsung TVs, you get a clutter-free home system that lets you enjoy music, movies and shows with a unique and impressive sound.
One touch control allows you to connect to the device wirelessly with ease. Samsung Audio App lets you control the whole wireless system with a stunning user interface.
PROS
Compatible with Samsung Remote App
Friendly user interface
Comes with 6 built-in speakers
It is wireless surround sound ready
CONS
Bluetooth connectivity issues
2) Samsung HW-T550
The Samsung HW-T550 offers great value for your money with its many cool perks. The device supports Dolby digital which is now a necessary aspect in most speakers. It supports 3D surround sound that ensures you get a captivating experience of the DTS virtual which turns your home to a theater.
It supports Bluetooth multi connection that allows you to switch between connected devices with ease. The Smart sound feature gives amazing sound experience by automatically detecting what you are watching and adjusting the sound to fit the scenario.
Gamers are also covered with the optimized gaming sound that gives you the best sound experience. Despite it having 2.1 channels unlike the 7.1 surround sound systems, the sound quality is perfect for a small home setting.
PROS
Easy to set-up
Good body design
Fast Bluetooth connectivity
Supports Samsung OneRemote
3) Samsung HW-T450
The Samsung T450 comes with many cool features like Game mode, one remote control and so much more. The sound system comes with a powerful bass that lets you have an impressive sound experience. Bluetooth connectivity is fast and you get long range listening abilities with ease.
The sound system auto detects what you are watching and automatically adjusts the sound tone to fit that condition.  A single remote from your samsung TV gives you functions like power, volume and sound effects adjustments on the sound system. The wireless sound kit gives you a surround sound system experience that ensures even distribution of sound in the house.
If you love gaming, this device offers great optimized gaming experience with high quality sound. Lastly, you are assured of reliable customer support from Samsung and have a 1-year warranty. You can find more details from the link below.
PROS
Comes with 3 speakers
Compatible with Samsung TV remote
Cool design
Surround sound ready
CONS
Lacks dedicated center speaker
4) JBL Bar 5.1
If you are looking for the best soundbar for a large room, then the JBL Bar 5.1 is the right option for you. The device can display similar functions to that of a 5.1 home theater system with its stunning music and movie listening experience.
It features 2 detachable battery-powered wireless speakers that can last up to 10 hours on continuous usage. The total system power consumption is at 510 W which is enough to give you a stunning listening experience. The device supports Dolby Digital Pro Logic II and DTS that lets you enjoy music, movies and video games with incredible sound quality.
The 10 inch wireless subwoofer offers a convenient bass boost without the need for wires in configuring them. JBL 5.1 is also able to connect 4K devices efficiently and upgrade your entertainment system to HD.
PROS
4K connectivity is available
Easy to set-up
Long battery life
Friendly user interface
CONS
Not a true surround system
5) BOSS Audio System
No products found.
The soundbar is compatible with any Samsung TV and offers an immersive sound experience. The bar comes in two categories, the 26 inch wide 4 inch speakers and the 27 inch IPX5 Bluetooth version. Our focus will be on the 26 inch wide 4 inch speakers.
It comes with Bluetooth compatibility that lets you stream music and use Apps like Apple music efficiently. Auxiliary connection is also available with the Audio outputs of iPods, iPhones and MP3 players. The device comes with 4 speakers and two 1†horn loaded tweets built under 500-watt class A/B Amplifier that is quite powerful and power efficient.
It is also easy to set-up by simply plugging in the connection cable to the power source. THe device has a 3-year platinum warranty when bought from Amazon.
PROS
Easy to set-up
Tweeters are quite powerful
Has 3-year warranty
Power efficient
IPX5 rated
6) Logitech Z906
Logitech Z906 offers great value for your money and is known for being the best among home theater systems with wireless speakers. It has a 5.1 digital surround sound and lets you hear every detail of your Dolby digital and DTS soundtracks like how the producers intended.
The speaker is THX-certified meaning you are assured of top-notch cinema sound. It has a 1000 W peak power which is enough to give you an immersive sound experience. The user can connect up to 6 devices and the adapter allows you to stream music 50 meters away from your device.
Logitech Z906 has an Adapter that plugs into any Powered PC speakers using 3.5 mm jacks. You can also connect Via Bluetooth from your phone or tablet.
PROS
Easy to set-up
Supports 3.5 mm jacks
1000 W peak power
Amazing body design
CONS
Lacks surround sound efficiency
7) Samsung Sound Tower MX-T50-500-Watts
From Karaoke mode to bi-directional sound, this device gives you the best listening experience. It supports a wide range of features that ensures you have an immersive sound experience. The MX-T50 supports Dynamic Bass when you press the Bass Booster button.
LED party lights are able to light up the room and give you that party ambient and vibe straight to your living room. It comes with a high power of 500 WATTs that ensures you have maximum power to keep the sound system efficient.
Its allows USB 2.0 connector type which is fast and has minimal connectivity issues.  Karaoke mode lets you listen to your music efficiently especially if you are looking for a single mic input experience.
PROS
Bi-directional sound is available
LED lights are cool
Efficient power usage
Compatible with Android devices too
Supports Multi-device connectivity
CONS
Lacks USB 3.0 connectivity
8) Samsung Sound+ SWA-W700
For those that love an immersive sound experience, the Samsung W700 subwoofer is a great option for you. The device comes with a deep Ultra-bass feature that adds room-shaking bass to your samsung sound bar. The device offers seamless operation by automatically tunes itself depending on what you are listening to to give you the best sound experience.
The SWA-W700 is compatible with most modern Samsung TVs and you can use the TV remote to control the sound system. It comes with a wireless subwoofer that offers 10 hours plus of a splendid experience when listening to your audio. Unibody design is cool and makes the sound look great in every angle and easily blends in with your home decor.
PROS
Has a unibody design
Dedicated technical support within warranty period
Supports ULTRA-DEEP Bass
Wireless connection is fast
CONS
Takes time to recharge the wireless speaker
Bottom line
Having awesome wireless speakers in your home ensures you get high quality sound for anything you are listening to. If you are using a Samsung TV, then the speakers mentioned in the article can be a great option to help you get started with that immersive sound experience in your home.