The 9 Best Reloadable Prepaid Cards with No Fees
A prepaid card is a type of card that requires you to load with money to use it. You can use a prepaid card to purchase goods and services from online stores or at physical shops that accept the card services. Most financial institutions provide reloadable prepaid cards with no fees. You only need to recharge with a certain amount of money, and you are good to go.
A prepaid card works just like the debit card. However, the two are different in that; a prepaid card has no connection with any bank account. You use what you have loaded at any merchant store accepting the card. On the other hand, a debit card links to your bank account. Therefore, when you use the card to buy goods and services, the spend money deducts from your account.
With a prepaid card, you have no limitation to buying goods and services only. You can as well send money to someone else using a checking account. What you do, you input the card number during checking out and enter the PIN after indicating the amount you wish to send. You can also buy gift cards online with a checking account from stores such as Amazon for anybody.
Table of Contents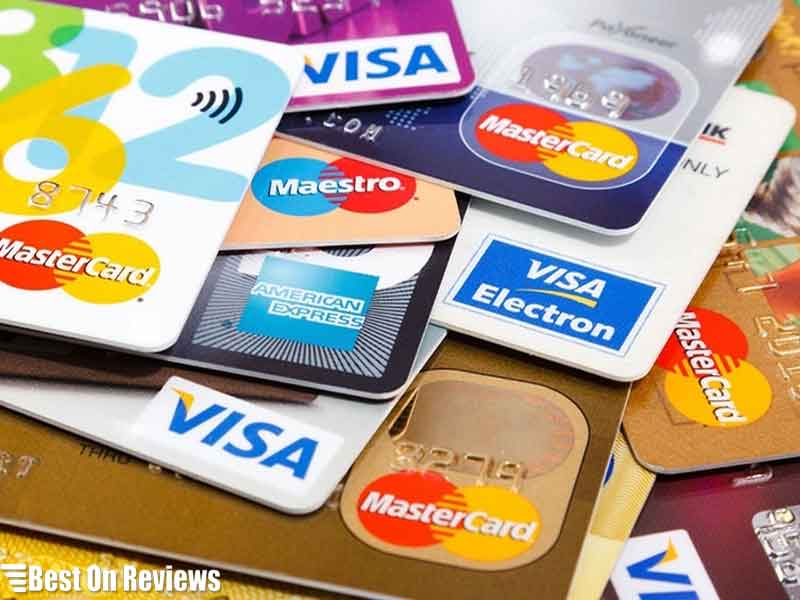 Best Reloadable Prepaid Cards with No Fees?
There are different kinds of prepaid cards you can find in the market. Different companies issue them under different terms and conditions. The following are the nine best reloadable prepaid cards in the market.
1. Bluebird by American Express
The card issuer charges no monthly fee and no loading fee. Moreover, you will not incur charges concerning annual fees. The activation fee is zero. It shows that the card is economical to acquire as well as to use it since there are very few expenses during and after receiving it.
You can recharge the card via direct deposit, using mobile check capture, by debit card transfer, or at any Walmart center. It is one of the most available cards to use due to its flexibility and convenience.
Moreover, accessing ATM services with this card is free across the country. Interestingly, no credit checks during the issuing of the card. Again, no minimum balance required at all.  Apply for the card here today.
2. Brinks Prepaid MasterCard
Bricks have been there for a long time. Records indicate that the company has been operating since 1859. It shows that the company has enough customer relations experience since it has served in the money market for long.
The card application is faster, and you can get it within a short time more so when you make a direct deposit instead of paper checks. Moreover, there are no late fees or interests of any kind because the prepaid card is not the same as a credit card.
So have peace of mind even when you stay for long without loading the card. Moreover, you can operate your prepaid account using a particular app on your smartphone. It makes the card usage very convenient. Above all, the card has insurance from FDIC, so your money safe. Apply for the card here today.
3. NetSpend Visa Prepaid Card
The NetSpend visa prepaid card is just among the best. If you want to get it faster, then you should make a direct deposit instead of paying using paper checks. Bearing in mind that the card is prepaid, there are no late payment charges or interest charges. Again, there are no overdraft fees on this card.
Above all, you will not incur activation fee charges. Moreover, no credit checks during the application. In addition, you do not need to have a minimum balance.
To make the card usage easier, you can download the NetSpend app from the relevant websites and manage everything on your smartphone. You require an internet connection to use the app. Again, you are safe with this card since it has FDIC insurance. In case you lose the card, it is easy to get another one. See more details here.
4. Chase Liquid Prepaid Card
The card is easy to load. You can use paper cheques, make direct deposit, or do bank to bank transfer at any Chase Bank branch. The best way to load the card is by direct deposit to get the card faster. Again, you pay zero charges on PIN and signature transactions.
However, unlike others, you pay a monthly fee of $4.95. Additional benefits include using Chase Bank ATMs free across the country. There are no charges on withdrawals you make. After all, adding money to the card is free.
Having the card is very economical as it saves you unnecessary expenditures. Download the Chase Mobile app in the Google play store or at the app store and enjoy the convenient operation of the account on the go. See more details here.
5. Starbucks Rewards Visa Prepaid Card
Just as Chase Liquid prepaid card, Chase Bank brings this card to you. It has an app, which you can use to operate your card. You can check your balance and monitor your expenditure closely. In addition, set customized messages and email alerts to get updates on anything concerning your card.
You can buy goods from online stores as well as at Visa Accepting physical shops and service providing points. Every time you use the card for transactions, you earn stars.
 Above all, there are no monthly or loading fees. In every $10 you spend, you can get one star. It is good to note that, with this card, your money is secure. The chip technology ensures that only you can authorize any sort of transaction using the card. Get the card here.
6. Movo Virtual Prepaid Visa Card
The card is economical to acquire since there are no activation fees to pay. Moreover, the issuer does not charge you when you make transactions. However, if you stay dormant, that is without using your card for three months, the service provider charges you $4.95 every month until you resume the card's operation.
With Movo Virtual, you can buy goods online, or even withdraw money at any Visa accepting ATM. Withdrawing cash at any ATM on Visa plus Alliance network is free. However, if you use ATMs on other systems, the issuer charges you $2 on every withdrawal request. You may incur additional ATM charges as well.
Use the Movo app to operate your account on your smartphone. You can recharge using online checking accounts such as PayPal, or deposit in your bank. Apply here.
7. PayPal Prepaid MasterCard
PayPal has, for many years, operated in the market with success. Being among the most popular online money sending platforms, the company came up with PayPal prepaid MasterCard to tap those customers who prefer using cards instead of using the online platform.
Again, recharging this card is very easy since you need to move money from PayPal account to your card. Moreover, making a direct deposit during card application causes you to get the card faster. Using paper cheques can take longer.
When using the card, you can earn cash backs as well as personalized offers. Such offers increase value for using your card. The Bancorp Bank, which operates the card, is a member of FDIC. Your money is thus safe. See more about the card here.
8. Wells Fargo Easy Pay Prepaid Card
Wells Fargo is a reputable company known for its excellent services of offering security in financial institutions as well as money and parcels in transit. The company has a prepaid card that is important in helping you to make purchases of goods as well as paying for services and sending money to others.
With the card, you can always reload quickly when it runs out of cash using cheques or direct deposit in their branches distributed in over 36 states of the United States of America. Moreover, access to ATM services free. Withdraw money at any of their 13,000 ATMs distributed countrywide.
Wells Fargo charges you $2.50 upon using non-Wells Fargo ATMs. You can recharge using the ATMs. Above all, their customer service is 24/7. You can thus call anytime you have an issue with your card.
One thing you should put in mind is that you will be required to pay a monthly fee for the card. However, no purchase fees and application fees whatsoever. Apply here for the card.
9. WeSwap MasterCard
The card issuer allows you to load the card free using paper cheques or direct deposits. Remember that direct deposits during application for the card helps you to get the card faster. There are no monthly fees. Moreover, make free withdrawals on money amounting to $200 and above. Interestingly, the card supports over 18 currencies.
During swapping of currencies to the locally used ones, the company charges you 1% of the amount to convert. WeSwap MasterCard is very convenient for travelers because you will never get problems with money conversions.
Use their mobile application to perform the swapping. The 1% charge swaps may take up to 7 days to reflect. However, if you need instant swapping, the company will charge you 2% of the amount to convert. Get WeSwap MasterCard here.
What to look out for with prepaid cards?
With all of the advantages of prepaid cards, there are a few things to find out, including how it works and its features. For example, they have some protections, and they can be used widely, yet they don't work like a credit card. Here are 7 things to look out for with prepaid cards:
A prepaid card is more like a debit card, and once you have spent the money on the card, you are done, except you reload the card with more funds. Besides, with a credit card, you are borrowing money that you will pay back later.
A prepaid card has protections. Although it's not a credit card, it has some protections similar to a credit card as part of a payment network.
It can be used for budgeting, and you can load it for a specific type of purchase, such as groceries and other things. Then, when your card reduces money, you stop spending on that item.
It's not tied to an account. Unlike a debit card and a prepaid card isn't linked to a savings or checking account. Whatever it can have routing and account numbers that you can use to auto-debit or deposit funds.
You can't build credit with a prepaid card. For that, you'll require a credit card and to start with a secured credit card or an unsecured card for anyone with bad or no credit.
You can buy it in a variety of places, and from grocery stores to minute markets, there are many locations where you can buy a prepaid card as well as Load it with the number of funds you want, and you're ready to go!
Watch out for fees. There are sometimes surprise fees in a prepaid card, so beware.
Are Prepaid Cards Different from Credit Cards?
Prepaid cards are very different from credit cards. At least debit cards are almost similar to prepaid cards because both require you to use what you have unless there are other agreements with your card issuer. However, in the case of a debit card, the money you use is just a loan of some sort. You have to pay the money later at the end of month.
The physical appearance of prepaid cards and credit cards is the same. It leaves many people confused and some tend to think that the two are the same. That is not true. The logos from the respective companies such as Visa, MasterCard, or American Express only show the issuer but do not indicate that the cards are similar.
Is a Gift Card a kind of A Prepaid Card?
A gift card is different from a prepaid card. You need to understand that a gift card is specifically for shopping at a particular store or stores. You cannot withdraw or send money using a gift card. Prepaid cards have the option of sending money, shopping at accepted points as well as withdrawing cash from ATM points. You can use a prepaid card to buy a reloadable gift cards with no fees from merchants who sell them.
Again, money loaded in prepaid cards does not expire. You can use it at any time you wish. Gift cards can expire. It means that when you receive one, you should use it within a specified time. After that, the card becomes a mere plastic.
What Happens If I lose my Prepaid Card?
Well, losing your prepaid card can be traumatizing. However, you need to worry less if at all nobody knew your PIN. However, you never know whether someone might have used tricky means to identify your PIN. Upon losing your card, you should report immediately to your service provider for deactivation.
You can then visit their offices in person and request a new card. Most prepaid card issuers charge you a replacement fee, which is usually small. Then transfer money from the old card into the new one.
The most important thing is to be careful so that you do not lose your card. Also, never tell anyone the PIN. In addition, you should never store your PIN notebook together with your card. It is even better to memorize the digits instead of having the PIN on a piece of paper.
Can I Get an Overdraft with a Prepaid Card?
Most service providers allow you to use what you have on the card. Upon exhausting the previously loaded money, you then need to reload again to continue enjoying the service. Some companies allow you to recharge your card online while others require you to visit their offices physically.
However, there can be a specific agreement with your service provider to allow you to borrow money and pay later. That is possible if you have a good record of paying debts.
Is there a prepaid debit card with no fees?
There are so many credit and debit cards available these days. Their various associated perks and rewards, finding the best reloadable prepaid debit cards with no fees, may seem like a fatiguing task. But we have presented some of the lists of card that we believe are any of the best options on the market.
Unfortunately, fees are also a fact of life, especially when you're dealing with money; these days, it can think to be like you pay fees on your money no matter whether you are trying to earn it (taxes), store it (bank accounts), or spend it (credit and debit cards).
For some states, prepaid debit cards can be a no-fuss way to cash paychecks and make a few bargains without dealing with bank accounts or credit cards. But even prepaid cards can come with an abundance of stinky fees. So, we have mentioned some of the most fee-free of the bunch in the following to help you find the right prepaid card.
The best with no reload fees: NetSpend Visa Prepaid Card.
Best with No Monthly Fees: NetSpend® Visa® Prepaid Card
Best with No ATM Fees: The American Express Serve®
Best with No Signature Transaction Fees: NetSpend® Visa® Prepaid Card
Best with No PIN Transaction Fees: PayPal Prepaid Mastercard®
The best with No Foreign Transaction Fees: Bluebird by the American Express
On the above, shortlists aren't the only prepaid debit but also credit cards.
What is the best reloadable debit card?
Depending on the prepaid debit card you prefer, you may have several options for adding money that you can use for purchases. In general, there's no fee for direct deposits from payroll or government advantages, but attaching cash at a retail area will usually cost you. Other methods of reloading a prepaid card include PayPal transfer, bank transfers using routing number and account number, and mobile check deposit.
How Do Prepaid Cards Work?
Including a prepaid debit card, you can choose a method of loading money on to a card like adding cash or direct deposit at a retailer and decide how much funds to count. From there, you would use the menu to compose purchases online or in-store.
Many cards also permit you to withdraw cash from an ATM, earn rewards, send money to friends, or set money away in savings accounts as well as you may not do all this with a bank account, making prepaid cards an excellent replacement for traditional banking.
If you have been omitted from banks due to a bad banking history or tend to overspend and have poor credit, a prepaid debit card could be a fantastic money management tool.
Can Prepaid Cards Build or Establish Credit?
We say that prepaid cards can't help increase your credit because they don't have a credit line assigned to them like a credit card. You can utilize the money you load onto the card generally from your account, through direct deposit, or with cash, but you don't borrow any from the card issuer in the process.
Since there's no credit relationship, there's nothing to report to the credit bureaus, which produce your credit reports. That said, prepaid cards can be considered with your money management. For example, you can load a set amount of money onto your menu each week to help your budget.
Also, some cards enable you to add sub-accounts for a spouse or kids. Most prepaid cards have monthly fees, and some even charge you for loading cash onto the card at local retailers. If you're considering a prepaid card, do your diligence to find one that suits your needs without high costs.
Benefits of a Free Prepaid Credit Card?
There are numerous advantages of a free prepaid credit card; in the following, we mention the crucial benefits of the free prepaid card.
The prepaid card aids you to adhere to the spending limit as per your budget.
The card is easy to obtain if you are not looking for any other credit card
No employment verification is queried for card issuance.
Also can be used to distribute salaries to the employees
You can't get into debt as it offers no credit facility
Some banks even allow you to withdraw cash using the card
Can be used to pay utility bills
Also, it can function as a gift card or travel card.
Prepaid debit cards vs. regular debit cards?
A regular debit card is associated with a checking account at a bank or credit union. Some online stores offer debit cards as well. On the other hand, a prepaid debit card is pre-loaded with money or funds from your paycheck or government advantages.
You can't consume more than you have loaded on a prepaid debit card except for cards that have purchase protection. With debit cards, if you opt into overdraft stability, you could face a substantial charge if a transaction gets declined.
After that, while prepaid cards are an outstanding budgeting tool, they typically come with more fees than a regular debit card.
Is a prepaid card a bank account?
A prepaid card is a standalone financial outcome that you load with money, and then it ultimately runs out of money unless you reload more. And a bank account's card is called a debit card, and it operates similarly, but it is tied to the account's funds. Neither is a credit card, which provides short term loans to the cardholder.
A prepaid card can have a similar specification to a bank account; however, you can use it to deposit your paycheck or auto-debit bills. And this is because routing and account numbers can be selected to the card. Plus, neither a prepaid card nor a debit card can create credit, when you can build credit with a credit card.
If your credit is not its best, try taking out an ensured credit card for credit-building. Along with, make sure the card issuer will notify the 3 major credit bureaus of your credit habits.
Who should get a prepaid card?
Prepaid cards are increasingly popular day by day, with the number of U.S. adults who used these products at least once a month increased by 50% from 2012 to 2014, according to a 2015 Pew Trust study. You might encompass them because you cannot land a checking account; according to the FDIC, about 8.4 million household's b in the U.S. did not have a bank account as of 2017.
Or perhaps you acknowledge the convenience. One thing we know consumers generally choose prepaid cards to control fees, control spending, or make purchases. "A prepaid card may be an especially good choice for a high school or college student," says CreditCards Industry Analyst Ted Rossman.
And "A parent could load money on to one of these cards to offer their child with spending cash and ease him/her into the method of paying with plastic before transitioning to a 'real' credit card. Besides, prepaid cards are also useful for people who are scared of debt. Be wary of fees, although, and note that you won't form a credit.
The Reloadable Prepaid card FAQs
Question: How do I know the balance on my prepaid card?
Answer: You can check your balance at their Web site, pfcu4me, by calling your local branch or calling customer support at 866-760-3156. Since a merchant may not tell how much fund is on the card, keeping track of your balance is a ensure way to know how much you have to spend.
Question: Where can my Prepaid Card be used?
Answer: Your card can be used to make buy at millions of Visa debit locations worldwide and obtain cash at any Visa Interlink or Plus® ATM worldwide.
Question: Can I purchase a Visa Prepaid Card as a gift?
Answer: No, Visa Prepaid Cards can't be given as a gift. You buy the Visa Prepaid Card for your personal use.
Question: How do I get a Prepaid Card?
Answer: You can purchase non-personalized or personalized Prepaid Cards at your local branch conditions.
Question: would I set up a direct deposit of my paycheck from my employer to my Prepaid Card?
Answer: Obviously, there is a downloadable pattern on the website that you may print and give to your employer. It has the routing or transit number and account number; they will need to set up a direct deposit onto your prepaid card.
Question: How do I find an ATM when I travel – especially overseas?
Answer: Visit their website at pfcu4me or practice the ATM locator found at visa for participating Visa and ATMs both domestic and abroad.
Question: What is the exchange rate when I get to another country?
Answer: The quality of the exchange determines the exchange rate on the date of buys. Using your Prepaid Card at an ATM can be less pricey than using a currency exchange to get foreign currency.
Question: When I travel, are my receipts in U.S. dollars or the local currency?
Answer: Your receipt will reflect the local currency. It is always good to scheme and have a general idea of the local exchange rates before you travel and also helps you to understand what goods and services are costing you.
Bottom Line
Prepaid cards are essential since they help to make purchases if you do not have cash. The cards are a secure way to carry emergency funds that you may need anytime.
Carrying cash in your pocket can be risky because robbers may forcefully take the money from you, or you lose the money on your way to attend to your chores. When choosing a prepaid card, select the ones with no monthly fees as well as those that can operate internationally.