The 7 Best Balance Transfer Credit Cards for Fair Credit
A balance transfer credit card allows you to transfer your debt to a low-interest rate card to save money and also to pay your debt faster. It is possible to get a balance transfer credit card for fair credit from various financial institutions. In most cases, most balance transfers take up to seven days or more to complete.  For example, Citi balance transfers take 2 – 21 days while Chase takes 7 – 21 days.
Balance transfers are a result of a promotion by a different financial institution other than yours whereby they lower interest rates for a certain period. The longer the promotion period, the more beneficial the transfer is to you. The most important thing when you transfer your balance is to ensure that you pay your balance quickly within the promotion period.
When transferring your balance from one credit card to the other, you must always read the terms and conditions and understand them well. Some have hidden terms that the issuer won't tell you when advertising. These include penalties for late-payments and fees. 0% interest credit cards with no balance transfer fee are the best if you want to save something substantial.
What is fair credit?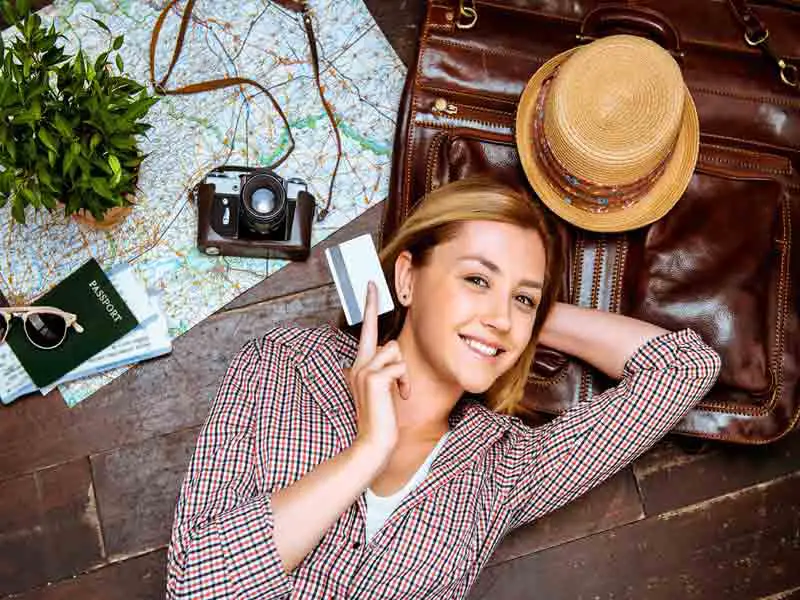 If you have ever researched about credit card requirements, you must have seen some indicating that they allow fair credit scores. Others allow bad credit scores while others allow good-excellent scores.  According to Experian, fair credit refers to scores ranging from 580-669. This scoring range has about 16% of the borrowing population.
Fair credit scores mean that the scores are slightly below the desired scores. However, the people within this range try very much to maintain a reputation with borrowers. However, this is not a zone to be comfortable with.
Most borrowers will always turn you down and thus there is a need to pull up your socks and achieve the good- excellent credit scores. Transactions such as buying goods and services, transfer of money from a credit card to a prepaid card online, and paying bills among other credit card usages contribute to building your credit scores.
How do I know my credit scores?
Knowing your credit scores is very important if you want to improve on your credit scores and achieve a greater borrowing potential. To know your credit scores, you can check with Experian, TransUnion, or Equifax.  The three companies give you a free credit history once every year.
Also, some banks offer free credit scores when using certain credit cards. It is always good to check your credit report and see whether there are errors. Remember some people can use your identity to borrow loans and failing to pay thus affecting your credit scores adversely.
Good credit scores help you to get lower interest credit loans, make it easier to get loan approvals, and also make it possible to get credit cards with good rewards. If you happen to have bad credit scores, you can apply for a second chance credit card with no security deposit at any financial institution of your choice and build your scores.
What are FICO® Score Ranges?
Fico scores range from 300-850. 300 is the lowest point and indicate a very poor credit score while 850 indicates an excellent credit score. The following chart shows the FICO score ranges and the percentage of people who fall within the score ranges. Have a look.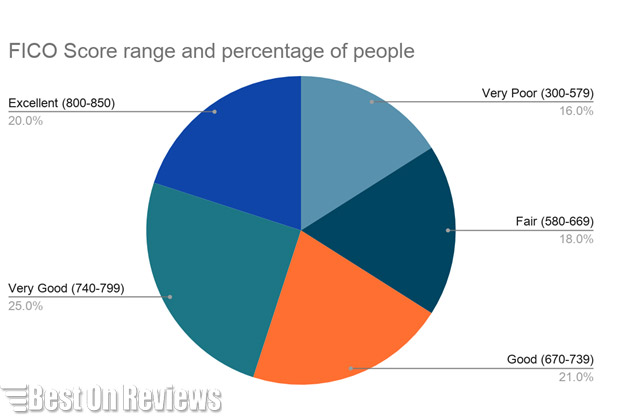 The Best credit cards for fair credit
The following are the best cards for anyone with fair credit.
1) Capital One Platinum Credit Card
The card has no annual fee. It has a 26.99% variable APR. Also, the card has no foreign transaction fees and you can be sure that it will not cost you much when you are using it in a foreign country. Within six months, you can get a credit line increase so long as you utilize the card well.
Furthermore, with CreditWise from Capital One, you will be able to access your credit score and tools to help you monitor your credit profile to see how you are fairing. Again, the card has a $0 Fraud Liability if the card is lost or stolen. You will not be liable to pay anything if someone uses the card to buy goods and services illegally. See more
PROS
Free credit scores
No foreign transaction fees
No annual fees
$0 fraud liability
Increases your credit scores
2) Indigo® Platinum Mastercard®
The card pre-qualification does not affect your credit score. Also, you can have multiple designs for the card. You are the one to dictate which design you want. Also, the card has secure fraud protection because it uses Chip technology. Therefore it is not easy for fraudsters to steal money from the card.
Interestingly, you will be able to build your credit scores in the process of card usage. It is an unsecured credit card and thus no security deposit is required. See more
PROS
It has fraud protection
No security deposit
Choose your design
Prequalification does not affect scores
3) Avant Credit Card
This is a good credit card to build your credit scores. It has an annual fee of between $0-$59. Checking your eligibility does not affect your credit score whatsoever. You can get limits of between $300-$1000 depending on your scores. Again, the card has a variable APR of 23.99%-25.99%. Besides, the card has zero fraud liability for unauthorized charges.
Since this is an unsecured credit card, you do not pay any deposit and no hidden fees. The card application is easy and fast and once you get it, you will be able to use the card 24/7. Use the card responsibly and grow your credit scores with no time. See more
PROS
Zero fraud liability
No hidden charges
Easy application process
Credit score growth
Prequalification does not affect your scores
4) Destiny™ Mastercard®
Do you lack perfect credit scores? Worry not as the Destiny Mastercard credit card is here for you.  Prequalify without affecting your credit scores. Application is also easy and quick. Since it is an unsecured credit card, you do not require any deposit. Just get your card and pay the debt after the end of the month. Choose your favorite design with no additional fees.
Destiny will also give you access to your card account 24/7. You will also get a chance to grow your scores since the issuer reports to credit bureaus. While this card is mainly for personal use, you may use a credit card like Capital One® Secured Mastercard® credit for a business checking account online with no ChexSystems.
PROS
Easy application
Prequalification does not affect your scores
24/7 access to your card account
You can choose your design
No deposit
5) Milestone® Gold Mastercard®
You can prequalify for the card without affecting your credit scores. If you subscribed to news and updates, you can easily get an offer via mails. Build your credit scores today with the card as long as you use it properly. Also, you can easily access your card account online for online payments and sending money.
Interestingly, the card has full protection from fraud-related activities. If you lose it, you are not liable for any unauthorized use. The customer care is always waiting to answer your queries. It has an annual fee of $75 for the first year $99 thereafter. Use the card to transfer money to someone else's bank account, purchase goods online, and pay bills among other uses. See more
PROS
Prequalification does not affect scores
No need for a security deposit
Dedicated customer care
Easy online access
Increases your credit scores
6) Credit One Bank American Express® Card
The initial credit line limit is $500. It will increase with time as you continue using the card properly. There is no security deposit required as this is an unsecured credit card. The annual fee is $39. The foreign transaction fee is 3% or $1, whichever is greater.  Furthermore, the cash advance fee is $5 or 8% whichever is greater.
The card will give you a 1% cashback on all purchases you make. You will not get a signup bonus but the card will help you to raise your credit scores to higher levels. The late payment fee is $39. See more
PROS
No security deposit
It helps you to build your credit scores
Has cashback
A low foreign transaction fee
CONS
Annual fees
Low cashbacks
7) Credit One Bank® Platinum Visa® for Rebuilding Credit
The card has an annual fee of $0-$99. It has a foreign transaction fee of $3. The regular APR is 17.99% – 23.99% which is variable. The card will also give you 1% cash back on eligible purchases such as gas, phone services, and groceries. Furthermore, you will be able to access credit without depositing security.
You will also get some reviews to increase your line of credit.  Also, remember that the card will help you to build your credit scores. In general, it is a good card to transfer money using the routing number and account number when making payments as well as when sending money to others. See more
PROS
Potential line of credit increment
Helps you to build your credit scores
Has cash backs
Low foreign transaction fees
How your credit score is calculated
The credit score for every person who uses a credit card or frequently takes loans from banks and other financial institutions is calculated as follows.
i) Payment history
The payment history occupies the largest percentage of your overall credit scores. 35% of your overall credit score depends on your payment history. This means that if you pay your debts well, that is on time and the right amounts, and then you are in a good position to have amazing credit scores.
Most people fall in the bad score category because they have a bad repayment history. You should be able to observe the payment plans to ensure that you are on point.
ii) Amounts owed
If you have a lot of money owed by some banks, other banks might negatively interpret this and especially if you use a large portion of your credit limits. It can turn out that you have many debts but you pay them every month. This can translate into good credit card usage.
Having several credit cards and using them well contributes positively to your credit scores. You should have the capability to repay your debts if at all you will take several credit cards.  The amount owed contributes to 30% of the overall scores.
iii) Length of credit history
The length of your credit card accounts can positively contribute to your credit scores. If you have been using your credit cards for a long time, then chances are that you are going to have high credit scores. However, a recent credit cardholder can also have higher credit scores depending on how they use their credit cards.
The length of your credit history contributes to 15%. Do not think that the percentage is very small as it can have a big impact on your scores.
iv) New credit
New credit contributes to 10%. If you apply for new credit cards, be sure that you pose a big threat to your overall credit scores. Avoid getting too many credit cards within a short time. It is better to find other sources of loans such as friends, self-empowerment groups, and other sources that will not report your credit to the credit bureaus.
v) Credit mix
Mixing of various credits contributes to 10% of your overall score and  helps you to improve your scores. This means that you can get mortgage loans, auto loans, personal loans, and so on and repay them on time to increase your score.
How can I improve my credit score?
If you are looking to improve your credit score, then here are things that you must observe. The following are very important to observe to increase your credit scores to good levels.
1. Pay your bills
Timely payment of your bills is very important if you want to increase your credit scores. If you are supposed to pay on a particular date, try your best to pay on the exact date. Also, ensure that you pay the exact amount owed. If you are late, your scores will go low but not as bad as when you do not pay at all.
You can even get a business credit card with 0 balance transfer to pay off your debts fast. Remember that if you completely fail to pay your bills, your card issuer reports to the credit bureaus that you failed to pay and this will spoil your reputation.
2. Improve your credit utilization ratio
The credit utilization ratio checks the balances you owe your credit card issuer relative to your credit limits. If your credit utilization ratio is too much, then you are likely going to score too low. You should spend below the limits. Do not spend too much of your line of credit as this affects your scores negatively.
You should never spend above 30% of your credit limit. It means that if you have a limit of $300, you should spend $90. Even if you are in great need of money, never pass the 30% mark. It is better to have two credit cards so that you can balance the spending.
3. Don't over-apply
Applying multiple credit cards can hurt your overall scores. A single credit card application can lower your scores. If you apply for multiple cards, then banks see you as a risky borrower and you might find it difficult to get loans and lines of credits in the future. Also, the more you borrow, the more your scores fall.
Therefore, learn to apply less often and only when you are in great need of a line of credit or a loan. And another thing, whether your application goes through or is rejected, your scores will still be affected. It is good to research a credit card score requirement before applying and not doing it randomly.
4. Look for errors
You should not just accept any credit report blindly. If you receive a poor credit report, ensure that everything inside is correct. Sometimes there may be a mixture of someone's information with yours. Do not allow that to continue. Any other records that you are sure that you are not associated with just have them rectified.
Again, someone might have used your details to apply for a credit card or a loan. Ensure that you close all accounts that are not yours and are using your identification details to borrow money. If anything, you should take legal action against such people.
Bottom line
Various credit cards can allow you to transfer your balance to a low-interest credit card. This helps you to pay off your balance within a short time. Always ensure that you pay your debt faster within the promotion period to benefit from the offers. Furthermore, you should also focus on improving your credit scores while utilizing your credit cards. Always confirm that your credit history is correct.