Transparent Cash App Logo: How to Make One for FREE
Are you looking to download a transparent Cash App logo or attempting to remove the background to make your own transparent Cash App logo?
We'll show you how to make a transparent Cash App logo for free and supply you with downloadable Cash App logos that you can use.
What Does the Cash App Logo Look Like?
The Cash App logo is a smooth, electric-green square with softened corners and a slanted white dollar sign.
This insignia serves as the app's symbol, logo, and signifier.
Read More: What is a Cash App Tag? We discuss Cash App tags, where to find them, and how to use them!
Can I Use the Cash App Logo?
Cash App values its brand identity, reputation, and goodwill. Therefore, businesses (and individuals) must guarantee that their logos are only used with the proper authorization.
Only Block, its connected firms, and its approved licensees are permitted to use the Cash App Logo in advertising, promotional, and sales materials.
Licensees may utilize Cash App assets exclusively, following their licensing agreement with Block and applicable rules.
A person or company should only use the Cash App logo with the written consent of Cash App.
Before using Cash App's logo, contact Cash App for a licensing agreement.
How to Convert a Cash App Logo to a Transparent PNG
Follow this step-by-step guide to convert a Cash App logo into a transparent PNG to make it a transparent Cash App logo.
Upload the Cash App Logo to remove.bg
To make a transparent Cash App logo, download a non-transparent Cash App logo and save it to your PC or smartphone.
Then import it to remove.bg
To upload a Cash App Logo:
Visit remove.bg
Click on "Upload Image." You can also drag and drop the image file directly into the box.
Tap on the Upload button and search on your PC, paste the link of the picture, or drag and drop it into the studio window.
Erase Any Part of the Logo Background
Once your Cash App Logo picture is uploaded to remove.bg, it will start processing the image.
Process & Download
Once you have a transparent Cash App logo, select the "Download HD" option.
Once selected, it will automatically download the HD quality image to your designated folder.
Removing a Cash App Logo Background Manually
Photoshop is the go-to tool many people use to manually make a logo transparent.
Here's how you can remove a background in Photoshop:
Step 1: Install Photoshop on your computer and open your Cash App logo in it.
Step 2: From the menu, select Layer > New Layer. You may also click the square icon in the bottom-left corner.
Then, create a new transparent background.
Step 3: Using the Magic Wand, choose the area of the image to be translucent. Press the Delete key.
The specified region will become transparent.
Step 4: Save your modifications.
Please keep in mind that only PNG and RBG files can have a transparent backdrop, so you do not want to save the logo in any other format.
The video below gives you an illustration of how to make a logo background transparent in Adobe Photoshop:
Download Cash App Transparent PNG Images
License: Personal use only, free of charge. These photos illustrate goods or personalities related to Cash App Square.
What is the Meaning of the Cash App Logo?
Cash App's logo indicates the application's goal and spirit.
Cash App's logo was developed in 2013 and hasn't changed since its inception.
Its identity features a vivid symbol and plain writing, which is generally positioned to the right or under the graphical logo.
The slight incline of Cash App's "$" makes the symbol friendlier and more welcoming, invoking confidence and reliability to its users.
The logo is usually seen with its white lettering on a bright green backdrop.
However, using black sans-serif writing could add a professional and serious tone to the green and white emblem.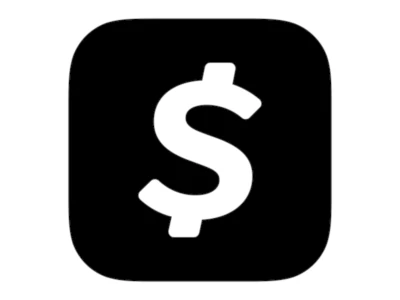 What is the Font and Color of the Cash App Logo?
Cash App's logo is a sleek, strong sans-serif typeface with well-matched letter sizes and spacing.
The App's name is written in a typeface similar to Basic Commercial and FF Teal Head Medium.
Cash App's color scheme consists of bright green, white, and black text accents.
The blend of light and joyful colors conveys freedom and pleasure, expressing the company's vitality and good attitude.
Read More: How to Download Cash App APK for Android or iPhone. Check out our short guide to make sure your app is up-to-date!
What is the Cash App Font?
Cash App uses Agrandir – Type font, which is a typeface created by Alex Slobzheninov.