The Dharma Credit Card Processing Review
Dharma is a well-known card processor company that caters for merchants ranging from mid to large size enterprises. Dharma credit card processing services is friendly, and it charges affordable prices that make the company attractive to customers. Today, many businesses prefer card payment since the money paid via card is safe. Furthermore, one does not struggle to look for a change. Customers also get rewards as a result of using cards to pay for goods and services.
Unfortunately, Dharma is not suitable for small businesses that are just starting. If your business receives less than $10,000 per month, then you have to look for other card processors like Square and PayPal. Dharma only works with businesses receiving more than $10k payments per month. It is transparent in its operations as it uses interchange-plus pricing. With Dharma, you will pay a markup fee of 0.20%-0.25% for all offline business transactions, and a fixed fee of around $0.10 for each swipe.
As I mentioned above, small businesses can accept card payments with other companies but not Dharma. Square is an excellent option to accept card payments for small businesses. In fact a small business owner should look for credit card processing for small business with no monthly fee to minimize the expenses that might pull one's business down. As soon as your business grows, then you can shift to Dharma or an equivalent to Dharma.
What are the Dharma Merchant Service fees and features?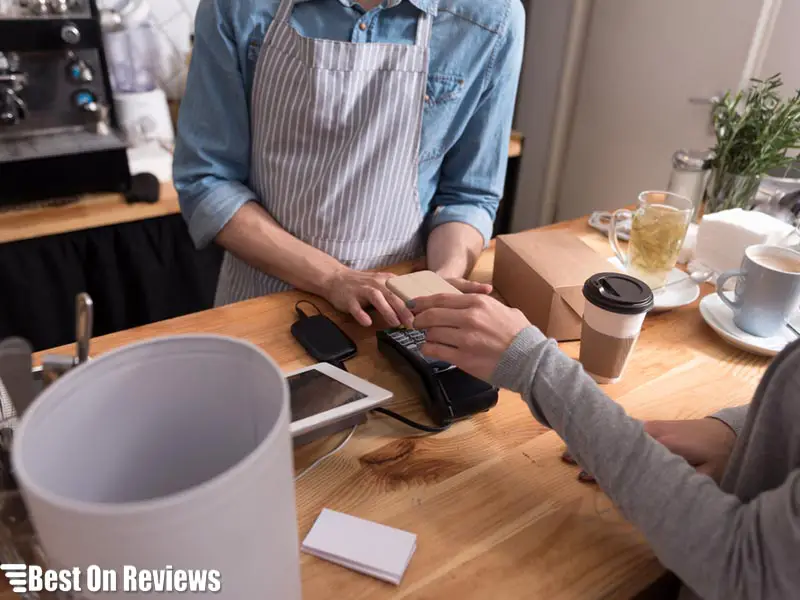 Dharma fees are transparent, and the company has interchange-plus pricing for all their credit card processing services. Dharma allows you to choose from three different packages ranging from online eCommerce businesses where customers can buy goods and send money with checking account number to your business account, storefronts, and for restaurants. Each package charges differently per swipe.
Dharma Merchant Services charges a $10 monthly fee and a $7.95 PCI compliance fee. An Interesting thing with Dharma is that you will be able to terminate your association with the company any time you feel like since there are no contracts to sign. You will pay nothing during the termination.
For online processing of card payments, Dharma offers you two separate gateways for handling credit card data. These are Dharma/NMI and Authorize.net. The NMI provides an option for email invoicing $0.) and QuickBooks integration. For invoicing, you part with $0.05 per invoice while you part with $10 for QuickBooks integration.
Another advantage of the Dharma Merchant Service is that it does not have account application fees, no annual fees, and no monthly minimums.
What are the products and services of the Dharma Merchant Service?
There are various products and services associated with Dharma. These include the following.
1. Merchant Accounts
Dharma uses Fiserv as its back-end processor. You will not need to link up with Fiserv yourself as the company will help you on that. There are more benefits if you rely on Dharma to link you with Fiserv than if connected directly.
2. MX Merchant
The MX Merchant is an all-in-one online account access and reporting system and it comes with each Dharma merchant account. It includes an online reporting, virtual terminal, a customer database, and a mobile processing app.
3. B2B Processing
The service requires a MX B2B app to help process data for level 2 and 3 data. The service is suitable for merchants who sell goods and services to other merchants. The app costs you $20 per month.
4. Mobile Processing
Dharma has an MX Merchant Express app that is available for both iOS and Android operating systems. The app pairs with Walker C2X card reader. Walker C2X card reader can accept magstripe, EMV, and NFC-based payment methods which include Apple Pay and Google Wallet. To get the reader, you have to spend $99. The device connects to your smartphone via Bluetooth or headphone jack.
The card reader allows the transfer of funds from the buyer's card to the seller's card. If you how to transfer money using the routing number and account number you notice that the two processes are almost similar.
5. Point of Sale (POS) Systems
Dharma also promotes Fiserv's popular Clover series of POS. The clover services require some monthly fee which you pay directly to Clover.
6. Kabbage Merchant Financing
Dharma also partners with Kabbage Merchant Financing to give small businesses lines of credits of up to $150,000. The financing is essential as it can help lift your business from the ground. Loans are necessary to uplift yourself from one level to another. Just like personal loans for students with no income will help you achieve your education goals, a business loan can grow your business to a higher level.
7. Fundraising Services
The company partners with 4aGoodCause to offer services for non-profit organizations such as donations to online crowd-funding events. Dharma sets up a clean, professional donation page for web, mobile, and event registration services.
What are the Dharma package pricings?
As I had mentioned before, Dharma offers three packages to their customers. These include Storefront, Virtual (eCommerce) Rates, and Restaurant Rates. For storefront rates, you pay a $20 monthly fee and an Interchange of + 0.15% + $0.07 per transaction. There are other incidental fees in this package, such as chargebacks which are open for everyone on the company's website.
For Virtual Rates, you will pay a $20 monthly fee and an Interchange of + 0.20% + $0.10 per transaction. Incidental fees may also apply. For Restaurant Rates, you also pay a total of $20 monthly fee. The Interchange is + 0.15% + $0.07 per transaction. Restaurant rates may also have incidental fees.
Apart from the above packages, Dharma has other special packages. The High-Volume Retail Rates need you to pay $15 every month. Also, it charges 0.15% + $0.07 per transaction above interchange. It also charges 0.10% and $0.07 per transaction for Visa, Mastercard, and Discover.
For the High-Volume Restaurant Rates, you pay 0.10% and $0.05 per transaction for Visa, Mastercard, or discover. For American Express, you pay 0.20% + $0.05 per transaction. It has reduced monthly fees and per-instance fees.
How can you set up Dharma Merchant Services?
It may take two business days for the process to complete. The process has a few moving parts which you have to ensure that they go on properly. Dharma works with you in the process, and sometimes the account may be ready in the next business day. Application is usually online and requires you to have all information regarding your bank account.
You should have an IRS letter or document that shows your EIN or Taxpayer ID number. Moreover, you should have three months of current processing statements in case you are already accepting credit cards. Upon approval, you can order for hardware such as POS and card reader and then set up your account.
How does Dharma Merchant Services integrate with third-party?
First, all MX merchant accounts are pre-linked with Control Scan, which is a PCI vendor to help you manage PCI and DSS compliance. It also ensures that you protect your business as well as your customers from fraudulent activities to the best level. If you fail to comply, you will have to pay a non-compliance fee of $24.95.
Also, Dharma Merchant services offer point-to-point encryption to prevent card data from fraudulent reading by hackers. The nature of POS and associated hardware determines the level of security for your card payment process.
Dharma also does not disclose customer card data to the merchant once the payment is complete. Some merchants might be crooks to steal customer's money. If you need some clarification, you have to call Dharma of which they give you details over the phone instead of transmitting them electronically. You have to answer various security questions before succeeding to get the needed information.
Dharma also integrates with third-parties whereby they export data from the MX system for use in QuickBooks. Dharma works with First Data and TSYS networks, and so your POS system should integrate the networks in use. These include Aloha, Dinnerware, Shopkeep and Shopify.
Is Dharma customer care service reliable?
Dharma has a dedicated customer service crew who are always ready to help where necessary. You can get adequate information about any query with your payment system anytime you need it. Some tutorials and videos explain different questions to customers.
The customer service crew is available from 8 a.m – 5 p.m. PT. Existing merchants benefit from 24-hour customer service to ensure that businesses run without issues.
Which are the alternative companies to Dharma merchant services?
There are similar companies that offer related services just like Dharma. These include Helcin, PayPal, and Square, among others. Square is the best for small businesses. The Square sales team can help you choose the best products that fit your business.
PayPal is also great when it comes to accepting payments. It has been there for a while and mainly specializes in online business. Helcin is also a good option and charges $20 per month. Helcin accepts monthly card payments volume of up to $25,000. Its supports all major cards such as American Express, Discover, MasterCard and Visa.
Bottom Line
Dharma merchant services are excellent since they are transparent and feature the needed security to prevent fraudulent activities during card payments. Both the card owner and the merchant are safe. If you are a medium or large scale business person, you should consider Dharma. Square is better for small businesses. If you suspect unusual activities within your merchant account, you should always contact Dharma customer care as soon as possible for a solution.