The Ashley Furniture Reviews and Comparisons
Imagine buying a new apartment, starting to move in, and then realizing something isn't quite right. You walk around trying to figure out what it is but can't quite put your finger on it. Maybe it's the feng shui? So, you start moving things around trying to get that well-balanced feeling, but nothing's really working. And then it hits you: A house isn't really a home before it features some attractive and comfortable pieces of furniture. While a great piece of furniture will give your new home some extra flair, the long-standing homeowner are often faced with living room or dining room upgrades as well, and Ashley Furniture provides an affordable solution. And we're here to provide some Ashley Furniture reviews and comparisons.
Ashley Furniture's aim is to prove that furniture can be "made in a better way". They design and manufacture practical and comfortable pieces in a timeless style. Starting with a comprehensive sketch, their pieces draw inspiration from their design team's travels all over the world. And, the design team goes the extra mile—their collections include everything from main pieces to accessories.
These sets are not just meant to coordinate when it comes to color and design—they also tend to fall in the same price class, so you can keep to a certain look without breaking the bank. The collections lean more toward traditional styles, but they cater for a wide variety of tastes including modern styles, industrial designs, farmhouse interior styles, and so much more.
Ashley Furniture Reviews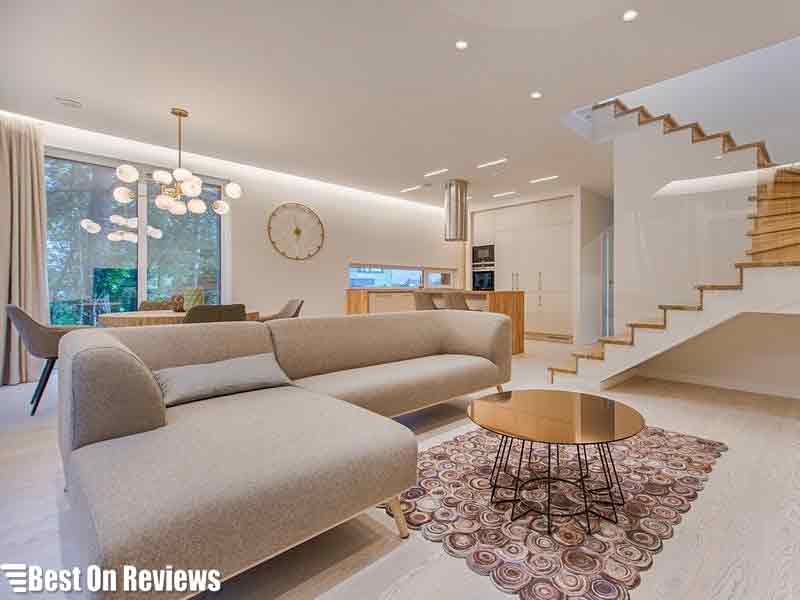 When you walk into your nearest Ashley store, the vastness and number of options may feel overwhelming, but you'll be able to satisfy all your furniture related needs in a one place. If you have trouble finding exactly what you're looking for, one of the customer service agents should be able to help. And if there's no Home Store in your area, your closest retail store will probably carry some of their products. However, availability and price can vary from one retailer to another.
Ashley's products are aimed at the cost-conscious consumer and their exceptionally low prices reflect this fact—as does their quality. While it's acceptable, it's not excellent. It would be best suited for individuals with a tight budget or those who are moving into their first homes. That said, your pieces will stick with you for a reasonable amount of time. They are, after all, the top selling furniture brand in the world.
What is Ashley Furniture?
Ashley Furniture is a family owned business that's been around for more than 70 years. They manufacture affordable furniture pieces and distribute them all over the world. Ashley Furniture Industries Corporation was founded in 1945 Chicago by Carlyle Weinberger. At first, Ashley marketed pieces made by local companies—specifically wooden occasional furniture. A second branch was later opened in Goshen, Indiana.
1970 sees Ashley investing in Arcadia Furniture, based in Wisconsin. Eugene Vogel's son, Chuck, joined the company's founder, Ronald Wanek, when he moved to Arcadia to open his business. Together they began doing production work for Ashley, specializing in cabinet commodes and occasional tables. Ashley introduced their own transport fleet in 1974.
See: The Best Ways to Shop Online with Checking Account Number 
In 1976, Wanek and some investors bought out Weinberger, effectively gaining control of Ashley's furniture production. Initially Ashley and Arcadia remained separate entities, Ashley focusing on sales and Arcadia on manufacturing.
The company's sales quickly escalated and by 1982 Ashley moved their headquarters to Arcadia after ownership and management was restructured—Arcadia and Ashley merged into a single company called Ashley Furniture Industries. By the middle of 1980, Ashley had a diverse range of products featuring around 350 different pieces. Their range was specifically expanded to include bedroom and dining room furniture. They also started catering for the average person instead of mainly offering heirloom pieces.
In 1994 Ashley bought Sklar-Peppler, an upholstery manufacturer, and soon the company had manufacturing plants all over the place—Seattle, Pomona, New Jersey, Orlando, and California to name a few. Ashley then acquired Gentry Furniture (for mobile furniture), and broadened their horizons to retailing, all in 1997. The first HomeStore opened in Anchorage, Alaska.
See: Top 10 Ways to Shop Online and Pay with Checking Account 
These stores can now be independently opened and owned, although all pieces sold are still manufactured exclusively by Ashley. In 2005 Ashley was crowned the world's largest manufacturer of furniture and has since then been involved in many charity projects and other causes.
Now, the company is still owned and run by father and son team Ron and Todd Wanek. There are more than 800 HomeStores worldwide today, and Ashley keeps expanding their product range.
Where is Ashley Furniture Made?
Their corporate headquarters are located in Arcadia and most of Ashley's manufacturing power lies in the US, but they don't mention where they source their parts and materials. To save clients time and money, Ashley has US manufacturing plants in Pennsylvania, Mississippi, Wisconsin, and North Carolina. In addition, they have international manufacturing plants in locations including China and Vietnam.
The three main manufacturing divisions are bedding, case goods, and upholstered furniture. Ashley is thoroughly committed to keeping up with technology, employing in-house engineers to design and build top notch manufacturing equipment. The manufacturing process is streamlined to maximize quality, minimize cost, and improve efficiency for faster delivery.
See: Top Furniture Stores That Finance People with Bad Credit 
Ashley Furniture Industries have more than 300 acres of under-roof manufacturing and distribution facility worldwide. In the United States alone they have an output of more than 50,000 units per day, rightfully earning their reputation of being the largest furniture manufacturer in the world. They sell around 30 million products with more than 7000 different SKUs every year.
To ensure continuous growth, innovation, and improved quality, they run worldwide testing labs located in Arcadia, WI; Ecru, MS: Leesport, PA; Shanghai, China and Vietnam. These labs continually analyze the quality of Ashley's raw materials, construction methods, and finished products. Multiple tests are performed on all finished products to evaluate appearance, durability, feel, and overall performance.
See: What Is Buy Now Pay Later Programs And How It's Work For Bad Credit People? 
According to Ashley's website their objective is to "be a leader in out of box quality and we work toward that goal every day". To reach this goal, all of their state-of-the-art labs stay in constant communication while test are conducted, and product standard are developed—both in the testing lab and on the factory floor.
Ashley Furniture Pros:
Ashley's pieces come at an affordable price
Their products are incredibly diverse, you can get everything from bedroom, to dining room, to living room furnishings in one place
Each collection is designed to include everything from main pieces to accessories
All pieces are manufactured by Ashley themselves, with local plants as well as abroad
The convenience of being able to shop online with Express
Ashley Express allows you to make purchases online, and your order will usually be shipped the next day.
There are over 800 stores and multiple other retail outlets, so finding a shop carrying Ashley furniture should be easy
Frequent deals, so you'll be able to find good prices on various items year-round
Replacement parts, if ever needed, are easy to source
Products are continually tested and improved to improve customer experience
Ashley Furniture Cons:
The pieces are not of superb quality
When a piece is out of stock, it may take some time before it arrives at the store you made a purchase
There have been frequent complaints about customer service
Collections are occasionally discontinued which can make finding older pieces difficult
There are reported issues with timely delivery from the HomeStores.
Comparison with Other Stores
i) Ikea
Many consumers turn to Ikea for their affordable furniture and mattresses, which you can pick up or have delivered. While they offer a wide range of options and many find their lower priced mattresses appealing, there are also many complaints on durability and firmness that cause poor sleep quality. Since Ashley also manufactures mattresses, we'd turn to them for this particular furnishing. When it comes to general service and product delivery, Ikea is a better choice. As quality goes, Ashley proves to be a better option. Some pieces from both companies require assembly, but Ikea is more widely known for their self-assemble furniture.
ii) La-Z-Boy
Both companies have the reputation that comes with being around for a long time. La-Z-Boy has a better overall customer satisfaction rating than Ashley, most of Ashley's lower ratings originating from poor after sale service. One of La-Z-Boy's biggest advantages is that they offer free interior design services, while Ashley doesn't have this feature yet. La-Z-Boy's furniture is also known for its exceptional quality, but keep in mind that all these things come at a price. In contrast, Ashley's prices are fair, and you'll always know that you get what you pay for.
iii) Coaster
Coaster and Ashley both offer great bang for your buck. Ashley's dining room sets generally rank lower when it comes to durability (problems specifically mentioned with dark, glossy finishes), but they tend to have better living room solutions than Coaster. As mentioned above though, a lot of Ashley's pieces are manufactured in the US, while Coaster only imports. If ever needed, Ashley's part replacement availability is great. By simply finding the serial or model number (as explained in the "discontinued" section of this article) you'll be able to call your local dealer and ask for the item you're looking for.
iv) Rooms to Go
Where price range is concerned, both Ashley and Rooms to Go offer reasonable quality pieces at a great price. However, Ashley's furniture tends to be more durable in the long run. Ashley's styles and designs tend to lean towards traditional—but they have been coming up with more modern designs in a wide range of styles—while Rooms to Go have been catering for those with contemporary taste from the get-go. Like Coaster, Rooms to Go mostly import their furniture.
Ashley Furniture Discontinued
What if bought a set of furniture a while ago and would like to add a matching piece, but when you try to buy said piece, you find that it was discontinued? Ashley frequently introduce new product lines and styles, and older sets are occasionally discontinued. If you want to find a matching piece to a set, you bought a while ago will require some treasure hunter skills and a bit of savvy.
The first thing you'll need is the model name of the specific piece you seek. Try to find it online, or if you already have some pieces in the collection you're looking for, you may be able to find the model name on them. You may be able to find this on labels or tags on some pieces, or on the underside of others—like stools and tables. In this case, the answer to "what's in a name" is that it would make it considerably easier to find what you're looking for when you start asking around. So, do a thorough search. If your furniture is upholstered, you should examine every cushion and look underneath the piece if there's no tag on the pillows. Cabinets and wardrobes may have the needed information on the back.
Then you should check wholesale outlets in your area—you might be lucky, although they won't always have exactly what you're looking for. Furniture outlets are another solid option. These outlets often offer discounted or slightly scratched pieces sold off by major manufacturers and retailers. Call around and ask your local stores if they carry Ashley products, there's a good chance that they do, and they might be able to help you.
If all else fails, turn to the internet. Browse second hand goods sites, sometimes you can find exactly what you're looking for at a great price. Or, post your query and see if someone is willing to part with their piece.
Conclusion
If you just moved into your first home or simply looking for a budget buy, Ashley's furniture is the perfect solution. Although you get what you pay for, the pieces should last a good couple of years. In addition to the good price, Ashley offers a wide range of furniture pieces in various styles, so you'll be able to find something to suit your taste.
These styles include modern styles, industrial designs, and farmhouse interior styles. In addition to this, most of Ashley's pieces are manufactured in the United Stated and are constantly tested and improved in specialized labs to enhance user experience.