How to Check Home Depot Credit Card Application Status
Citibank issues the Home Depot Credit Card as an in-house store credit card that helps you in furnishing your home, especially when working on multiple projects and you want to renovate your home. However, when looking for a home depot credit card application, you have to bear in mind that this card does not reflect a Visa or Mastercard logo. Interestingly, you can apply for a credit card using an online or offline method.
Moreover, this card is suitable for individuals who conduct fairly regular medium-sized purchases. You can only utilize it strictly for purchases at your local Home Depot store or via the retailer's app and website. Besides, for instant credit card approval and use, the application process is fast, and access to credit for qualified applicants instantaneous. Most credit card reviews indicate that a fair credit score is required to be eligible for the card.
Notably, this card provides no interest or low-interest financing options on select purchases. It comes with card-specific perks, including a first-time purchase discount and an extended returns policy. On the other hand, the downside is that the card lacks cash-back rewards compared to other credit cards. You might also encounter a high APR, especially if you miss a payment. Otherwise, tracking your credit card application status is easy either online or through your mobile.
What is The Home Depot Credit Card Special Financing Offers?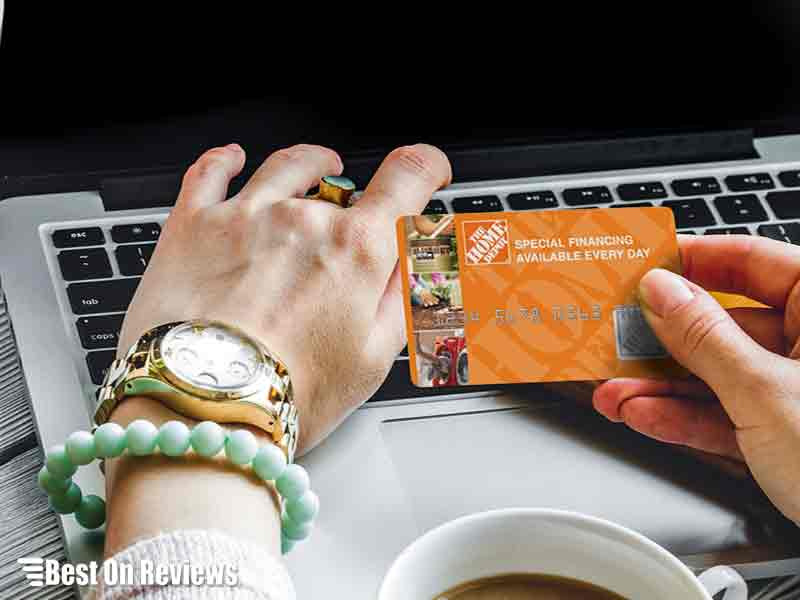 The Home Depot's top-most special financing provision is the 6-month everyday financing on purchases of $299 plus. Additionally, The Home Depot grants cardholders the chance to secure limited-time-only special financing offers such as;
12 months financing on any installed heating and air conditioning purchase of $299+
Up to 18 months financing on established bath purchases
24 months financing on a Rain Soft Installed Water Treatment
24 months financing on an installed countertop, installed cabinet makeover, and backsplash purchases
On top of these financing offers, the cardholders can pay off their balance with no interest when paid in full in a span of the allotted period, a financing offer called Deferred Interest.
What is Deferred Interest?
Deferred interest means that no interest is applicable if you pay off your purchase in full within the promotional period. However, if you don't pay off your balance in full, interest charges will get added to the starting balance at the APR for regular purchases with effect from the purchase date.
Besides, the standard purchase APR is the rate chargeable to your account depending on your credit worthiness, and you can check it in your card agreement terms.
Benefits and rewards
The period of your financing depends on the amount of your purchase. You receive 24 months of funding for assets worth $5,000 or more, plus 12 months for purchases of $1,000 to $5,000, and lastly, 6 months for $299-$999. You also have up to a year to return a product if it's faulty or you made a wrong purchase.
However, Home Depot regularly has promotions to motivate you to finance purchases using the card, but transfer money from one credit card to another is not guaranteed by this card.
Costs and fees
If you don't offset the card balance by the end of the financing period, the interest gets calculated from the purchase date. Thus, the card APR lies between 17.99% and 26.99% based on creditworthiness, and there is no annual fee whatsoever.
PROS
Special discount offers
$0 liability on unauthorized charges
No annual fees
Up to 24 months financing on special promotions
Online account management
365 Day In-Store Returns on your The Home Depot Consumer Credit Card purchases
Home Depot Credit Card Application Process
To qualify for Home Depot Credit Card application, you must be a resident of the United States. You can either make an application for your card online using their website or in person. The application assessment and approval are instantaneous if you avail all the correct information required by the issuer.
After approval, you will receive your credit card within 14 days, and in case you disqualify, you will get notified of your application status within 30 days. Moreover, you can utilize the issuer pre-qualification tool to confirm if you meet the required credit score before applying for your Home Depot credit card. 
What Is The Process For The Online Application For Home Depot Credit Card?
You can apply for this card at the comfort of your smartphone using the online method. You need to;
Open your browser and go to Home Depot's online credit center website and look for the Home Depot consumer credit card offer.
Click on the 'Apply Now' pop-up that appears as an orange button for direction to their online application page.
Fill out your full name, contact information, address, financial information, identification, and date of birth on the application form.   Afterward, read the terms and conditions of the account carefully and then tick the agreement box.
Click the 'Submit Application' box appearing as an orange-colored box.
After approval, you'll receive an online confirmation with information about your credit limit. You can print this confirmation letter and submit it to your nearest Home Depot store to have your temporary card information and a coupon worth $25 eligible for your purchases of $25 or more valid for 30 days.
In-Person Home Depot Credit Card Application
You can physically visit a nearby home depot store and apply for your card over the counter. The process is usually hassle-free and takes little time to complete. You need to;
Go to a local Home Depot store and head to the Customer Services desk.
Inform the representative that you want to apply for a Home Depot credit card.
Fill out the application form by availing your full name, phone number, email address, street address, financial information, Social Security number, and birth date. Then, wait for your approval.
After approval, you will get issued with temporary credit card account information and a $25 coupon and start purchases to your account right away. You can also contact Home Depot's credit card customer service number on 866-875-5488 if you experience challenges with your account.
How Do You Check The Status Of Your Application?
After finishing the application process, you may need to track the application's progress and keep a close check on the application's status. To track your Home Depot credit card application status, you can use Citi's online tool or contact 866-875-5488 and select "1" for English.
You then follow by "2" option for other cards. However, you will get requested for your application ID, zip code, phone number, birthday, and Social Security number to confirm your identity.
1) Online Method
When tracking your application online, navigate to the Company's website and find a credit card section. Once you see this part, provide your registration number on the empty columns where it's needed. You need to verify your registration number using the send verification code for further processing.
After confirming your identity, your application status will get shown on the site. Additionally, the Company allows their customer to check the credit card application status using their birth date. You can download the Citi App, where you need to fill in the date of birth that you provided in the application form.
However, you can also check the credit card status of your phone number. If you are not using the App, visit the website and find your application in the credit card section. You need to enter the verified date of birth and enter for the submission. You will receive your status even if it's rejected, dispatched, and approved.
2) Offline Method
The Internet makes it convenient for people to check the application status online, but not everyone is familiar and can afford internet services. Thus, you can still check out the status of your applied credit card offline using customer care. The offline method is one of the easiest methods to check the status of your credit card application.
You only need to call the toll-free number on 866-875-5488. Once the call connects, give some information along with the tracking number. Afterward, customer support will inform you of the status of your application.
Additionally, the other way you can check on the application status of home depot credit card is by visiting the nearest home branch. You need to provide your application tracking number, and the customer representative will let you understand the status of your credit card application.
Bottom line
The Home Depot Credit Card is only applicable on purchases at Home Depot. The card issuer is Citibank and provides different financing options. If you plan on refurbishing or building your home on a large purchase, this card offers the best financing options based on the purchase price.
However, this card has few rewards available for customers who pay off their balance in full each month. On the other hand, if you're in for a travel rewards credit card or a cash-back card to enable you to earn points or miles, this card isn't the right choice for you.