Best Buy Now Pay Later Apps
Shopping online has never been easier, thanks to buy now pay later apps.
Many retailers have joined forces with BNPL apps to make it easier for shopaholics and budgeters to make buys on their websites. These apps are popular because they work like credit cards.
Meaning, you can purchase something today and pay for it over time – but here's the real kicker. As long as you make scheduled payments, many of the best-rated apps don't charge any interest.
In today's article, we'll discuss some of the best buy now pay later apps for you to try out.
Table of Contents
What Are Buy Now Pay Later Apps?
Buy now pay later apps allow users to pay off minimum-sized buys in quick installments with 0 interest. However, with so many buy now pay later apps, finding the right one can be overwhelming.
Buy now, pay later is a common way to break up your online buys. You can split your buys into 4 or more equal payments (you'll pay 25% upfront and 25% more every 2 weeks until your buy is paid off). The best part?
You can get instantly approved for these apps, and you also won't even have to pay interest. So, instead of spending $100 upfront for Airpods on Amazon, you'll only have to spend $25 every 2 weeks.
According to Credit Karma, around 40% of Americans have utilized buy now pay later apps due to their convenience, but how do these apps actually work? Let's find out!
See our related article What Is Buy Now Pay Later Programs to learn more about this method of paying for online purchases.
How Do Buy Now Pay Later Apps Work?
Buy now pay later apps allow people to divide their buys into multiple payments (often 4) to pay out over a period of time. They resemble credit cards by splitting up buys into multiple payments.
However, you often don't have to pay any interest for doing this with most buy now pay later apps. So, if you want to buy something but don't have all the funds yet, these apps can come in handy.
Keep in mind that utilizing these apps can negatively impact your credit score if you miss your payments or make late payments. So, make sure you're punctual with your payments to protect your credit score.
That said, these apps don't share the same strict rules with credit card companies, so if you need a payment delay option with bad or no credit, then these apps can be a positive for you.
Watch this video to learn more about how BNPL apps work:
Pros and Cons of Buy Now Pay Later Apps
It's not surprising that most of the people who utilize buy now pay later apps fall into the Millenial and Gen X demographics.
Already restrained by student loan debt, young people have found BNPL apps to be the ideal way to boost their spending power without getting into more debt.
These apps have gained a lot of popularity among retailers and customers alike. It's the ideal alternative to shopping online with credit cards.
They're extremely beneficial for business because they boost sales conversions, converting occasional website visitors into regular paying customers.
Unsurprisingly, people have even traded their credit cards to use buy now pay later apps instead, and these apps aren't expected to lose popularity anytime soon judging by the fact that they're lowering shopping cart abandonment.
Pros of Buy Now Pay Later Apps
Convenient (straightforward and quick to use)
Interest-free periods (as long as you pay on time, you won't need to pay interest)
No hard credit check (soft credit check that won't impact your credit score)
Cons of Buy Now Pay Later Apps
Fees (if you miss a payment, you could be charged a high late fee)
You can't build credit (on-time payments aren't reported to the credit bureaus, so they won't help you build credit)
High-interest rates (if you don't handle the whole balance before the interest-free period is finished, you can be subject to interest rates in the double digits)
Best Buy Now Pay Later Apps in 2021
Buy now pay later apps have changed the way people shop! They've created an option for better control in dealing with payments, managing funds, and shopping.
However, with so many BNPL apps out there, which one is best? Below are 10 of the best-rated BNPL apps in 2021!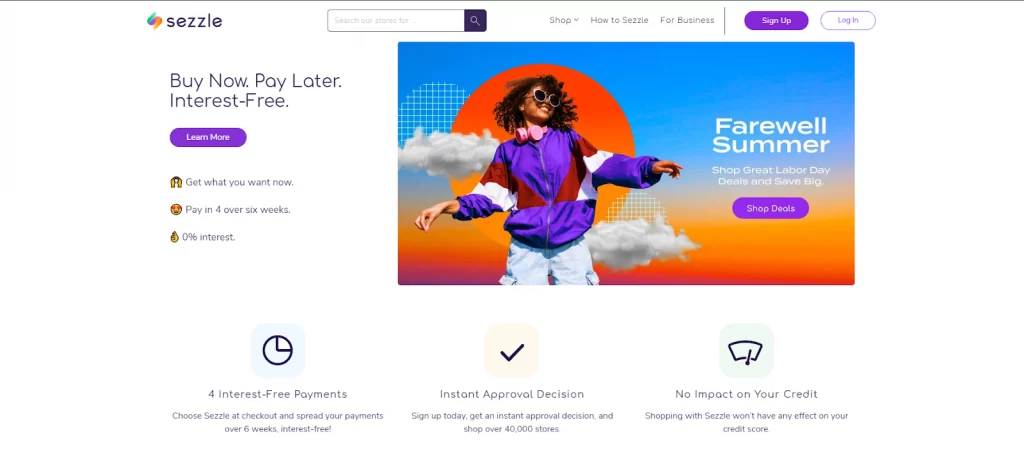 Seezle is on the top of the game with over 2.6 million active customers. It's a publicly-traded company that works in the US and Canada. However, it's based in Minneapolis, Minnesota.
It's a Certified B Corporation, meaning it utilizes all the resources and profits to support a public benefit. There are over 34,000 active merchants on this app where you can buy now and pay later.
Like many of these apps, Seezle asks for a 25% payment and 3 extra payments every 2 weeks. What's great about this app is that you can reschedule payments up to 2 weeks later, so it's definitely flexible.
Keep in mind that only the first reschedule is free. Every next payment change for the same buy will cost you $5. Now, let's take a look at the main pros of this app.
Pros:
No interest
Soft credit check
You can push payments up to 2 weeks later
The first reschedule per buy is free
You can even reschedule subsequent payments at 0 costs at the same time.
Cons:
Asks for 25% down payment upon buy
Extra payments aren't rescheduled if you don't pick the option
Each extra reschedule will cost you $5
Watch this video for more details about Sizzle: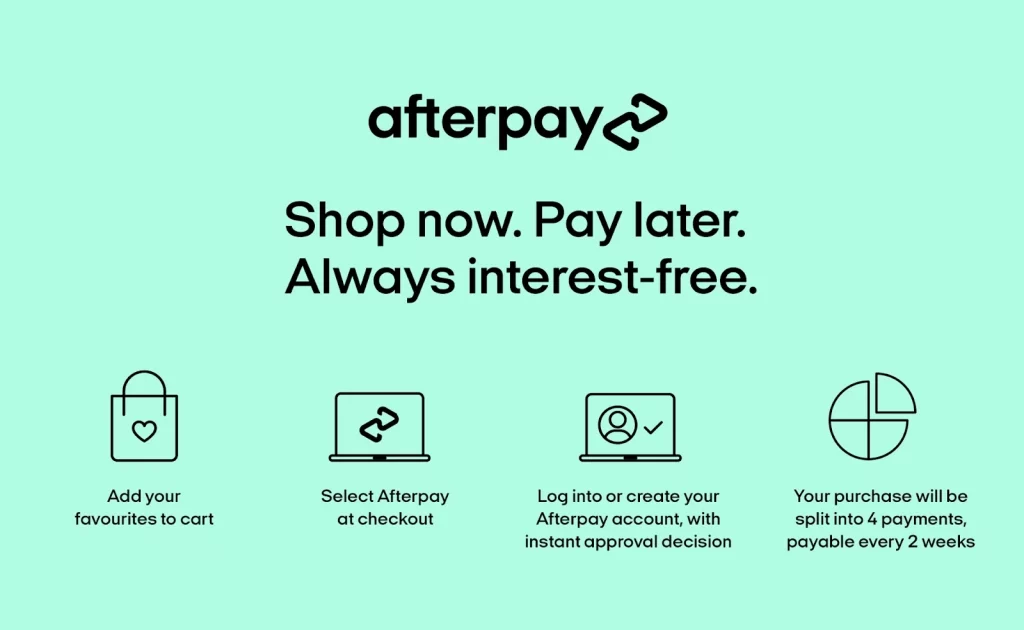 Although Afterpay is based in Australia, it also operates in the UK, New Zealand, and of course, the US. It has over 14.6 million customers from all over the world.
Afterpay partners with over 85,000 brands, so you have a plethora of buying options. You can browse partnering stores both in person or online and make buys with 0 fees or interest as long as you make scheduled payments. It's excellent for students!
Why? Well, each order you try to make is a subject of a fast approval process utilizing smart credit limits. So, if you have limited financial resources, Afterpay is for you.
Just log into your account via the app and add your virtual card number to your mobile wallet and make a purchase. Afterpay requires the first of 4 equal payments right away. Then, each of the remaining ones every 2 weeks. Once your buy is approved, it will ship as usual.
Keep in mind that if you're behind a payment, you'll be fined up to 25% of your total order amount (a maximum fee of 8%), so make sure to pay them on time.
Pros:
0 fees when you pay on time
Sends notifications so you don't miss payments
Smart credit limits help you stay under budget
No credit check
Cons:
Each order must be approved by the app
You can pay as much as 25% of the total order amount if you miss payments
The app can decline your purchase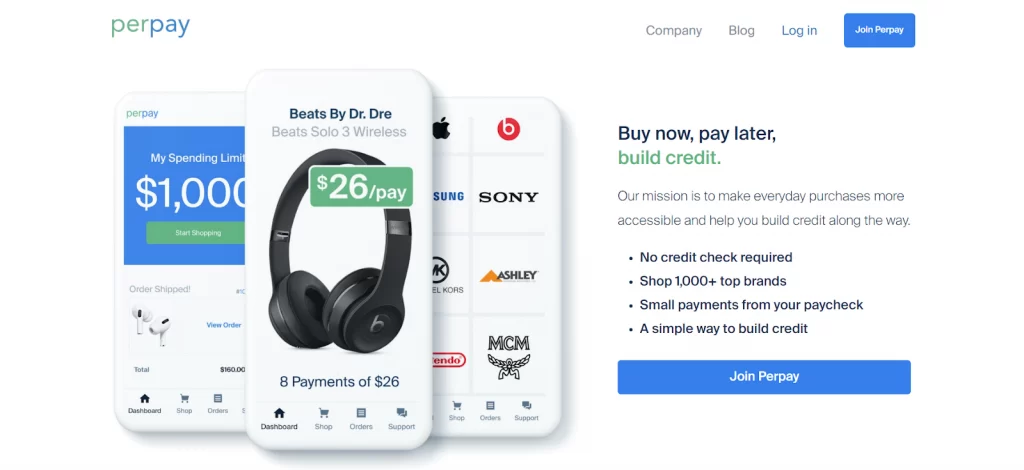 Prepay is located in Philadelphia, Pennsylvania. It has fewer members than the previous two apps (over 3 million), though it's still worth a look because it's one of the fastest-growing private companies.
The company has partnered with over 1,000 brands and can help you save your bad credit! You read that right.
All you have to do is pay your payments on time and you can increase your credit score by 39 points. Not only that, but you can start shopping within 1 minute of joining the app.
What I don't like about this app is that your order isn't shipped until your first payment is completed. This shouldn't take too long, but it's still a point of aggravation for customers.
What we do like about this app is that, unlike other BNPL apps, Perpay splits your buy into 8 equal installments. The payments are done via direct deposit from your payroll.
Sad to say, other types of payments aren't accepted unless you're making additional payments. This is another inconvenience for users.
However, the fact that Perpay helps you improve your credit by reporting your good payment history to the credit bureaus is amazing (after finishing 4 months of on-time payments with a total of at least $200)!
Now, let's summarize the pros and cons of this app and decide if it's worth your time or not.
Pros:
Perpay doesn't check credit history
Utilizes 8 equal installments instead of 4
Spending limit based on current income
Cons:
You're limited to the app's marketplace
All scheduled installments must be handled via payroll direct deposit
Orders aren't shipped until the first payment is completed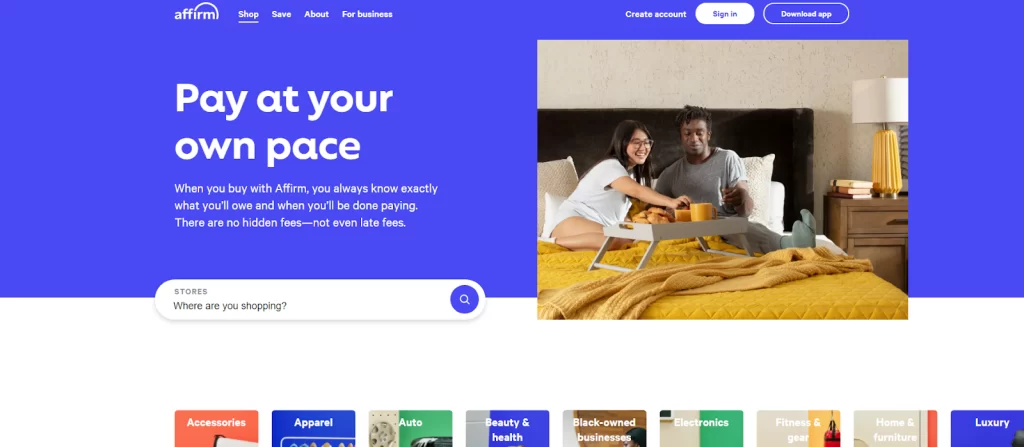 Affirm is another publicly-traded company that was founded in 2012 in San Francisco, California. Affirm is a reliable app that has funded over 17 million buys.
You can make purchases of up to $17,500 and pay over time with 0% interest rates or from 10%-13%, depending on the retailer. You can pay your loans in 3, 6, or 12 months without late fees or hidden costs.
What's also great about this app is that when you make a purchase with this app, you always know exactly what you're spending and when your payments will be.
So, Affirm does all the math for you, so you can shop stress-free. Last but not least, there's no late fee! This is why many people choose Affirm over any other buy now pay later app. Your interest charges won't get mixed up and increase over time.
Pros:
Loans up to $17,500
You can pick the payment schedule that suits you best
In-store or online purchases
No late fees
Cons:
No physical credit card
Some transactions alter interest
Demands a credit check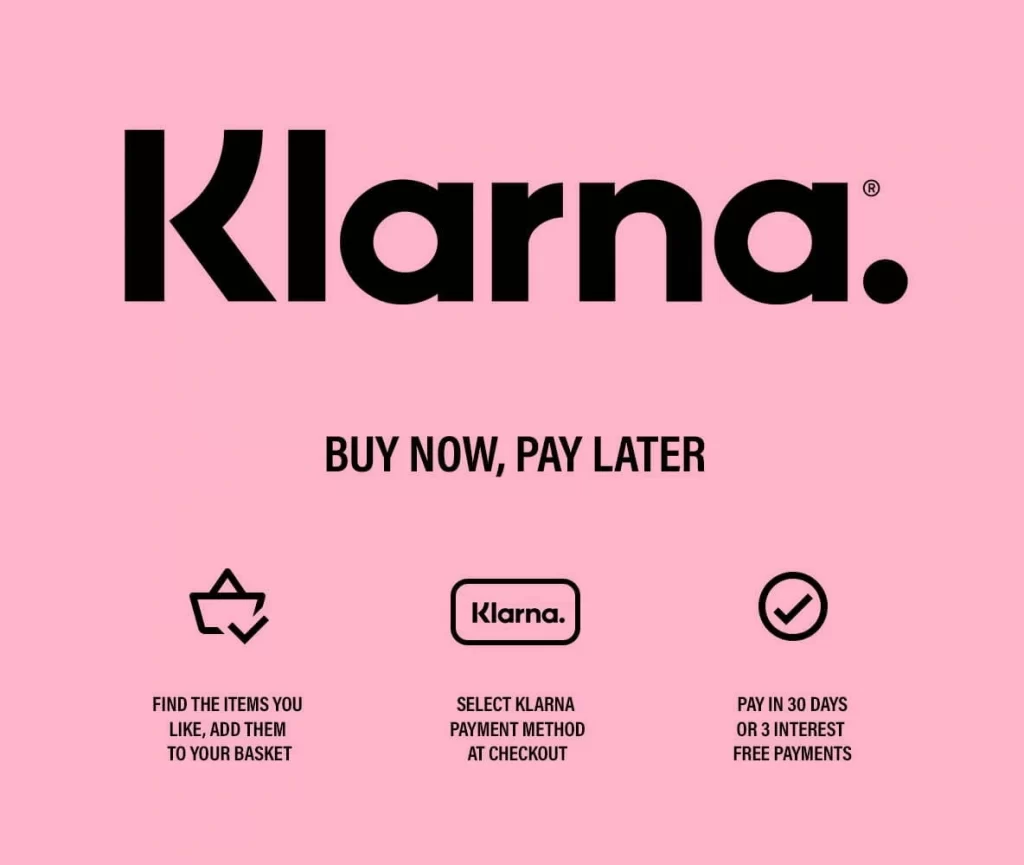 Klarna is a leading BNPL app with over 90 million customers and 250,000 merchants across 17 countries. It's a Swedish company that operates in Europe and the US.
You can use this app to convert any buy into smaller payments at every brand that accepts credit cards. What's more, Klarna doesn't affect your credit when utilizing the pay in 4 option.
Make a virtual card in the app and use that number to complete your purchase. Just like with the previous app, it divides the total amount into 4 equal payments. The first one is due right away. The remaining amount will be paid every 2 weeks.
What sets Klarna apart from other apps is the option to settle the balance in full within 1 month with no interest. There's also 36-month financing to handle bigger orders, so it's super flexible.
There's no fee if you pay your installments on time! People like Klarna because it's convenient, versatile, and user-friendly. What more could you want?
Pros:
One-time use card numbers for additional security
You can use this BNPL app wherever credit cards are accepted
You can earn rewards with the Vibe loyalty program
No fees or interest when you pay everything on time
Cons:
Each order must be approved by the app
Asks for a credit check for some financing options
Watch this video to learn how to use Klarna: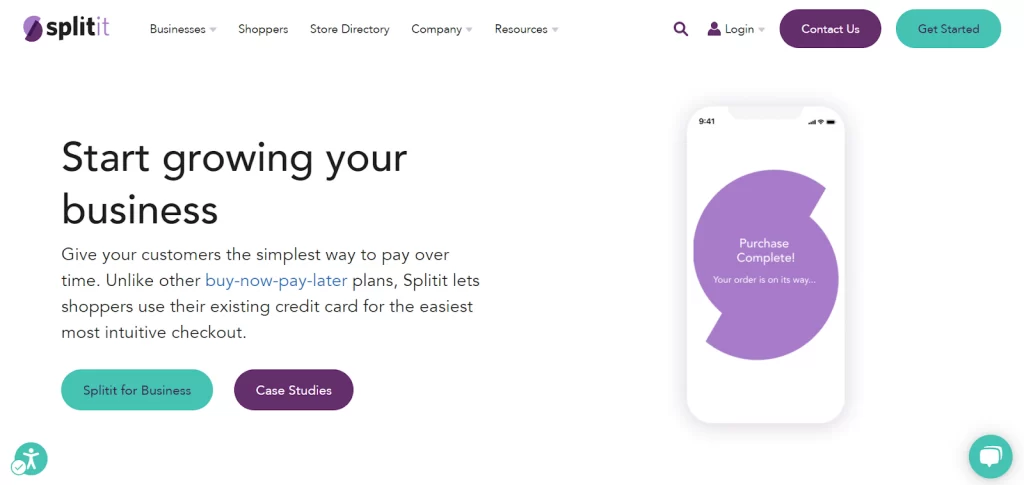 Splitit allows customers to use their existing Visa and Mastercard credit cards instead of issuing more credit to make purchases. It's partnered with Mastercard, Visa, Stripe, and Google.
With this app, you can also earn rewards on your buys and pay over time with 0 interest. Just like Affirm, this app doesn't charge people any fees or interest, including late fees which is mind-blowing!
Just pick Splitit at checkout, select how many payments to make to settle the balance, and type in the credit card information. Splitit doesn't ask for registration or an app to utilize its pay later services.
When making a purchase, your credit is decreased by the total amount as a pending payment, and each time a payment is due, it will be charged to your card and the pending amount will be decreased by the same amount.
The process continues until you pay the total amount. Pretty straightforward!
Pros:
The highest transaction approval rating
No credit checks, applications, or registration needed to use this app's pay later services
Utilizes your existing credit card limits
Cons:
Doesn't build credit
You'll need to have a credit card with available credit
Not available with Discover or Amex cards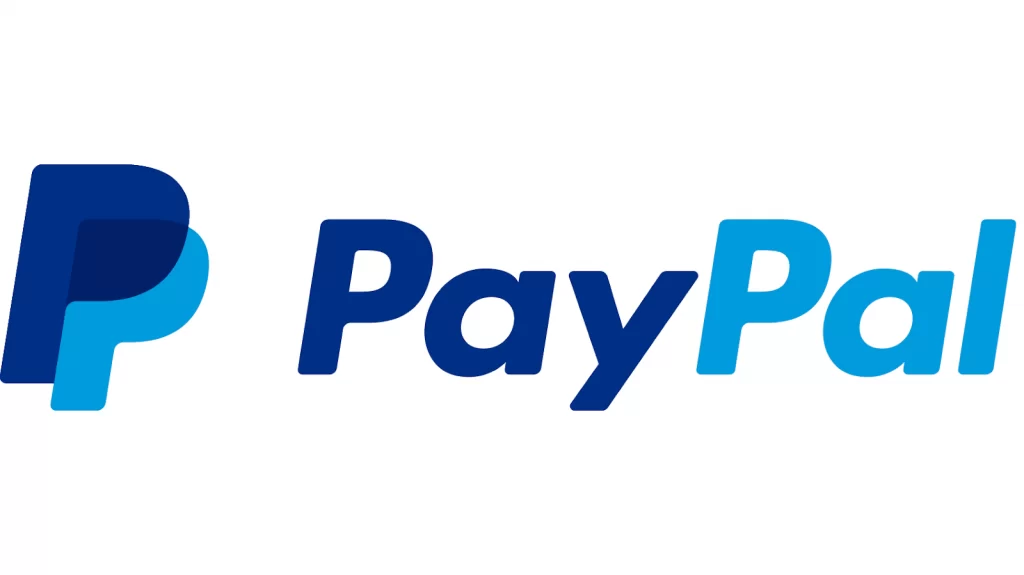 With PayPal, you can make person-to-person payments.
This online payment processing brand has been expanding to both online and in-person buys over the years and is one of the most well-known payment choices worldwide.
With this app, you can pay in 4 scheduled payments at millions of online merchants such as Best Buy, Coach, and Vineyard for transactions between $30-$600.
However, to use pay in 4, you'll need to open a PayPal account at the time of purchase or have an existing one that's either linked to your credit card or bank.
You'll provide a down payment at the time of your purchase and 3 subsequent installments every 15 days.
PayPal's pay in 4 isn't available to users of South and North Dakota, New Mexico, Wisconsin, Missouri, or any US territories. Overall, it's a great option for small purchases.
Pros:
Interest-free payments
You can use it at millions of online merchants
Familiar and reliable BNPL app
Cons:
Not available in all 50 states
Each order must be approved by Paypal
Maximum purchase of $600
Watch this video for an overview of PayPal's BNPL feature: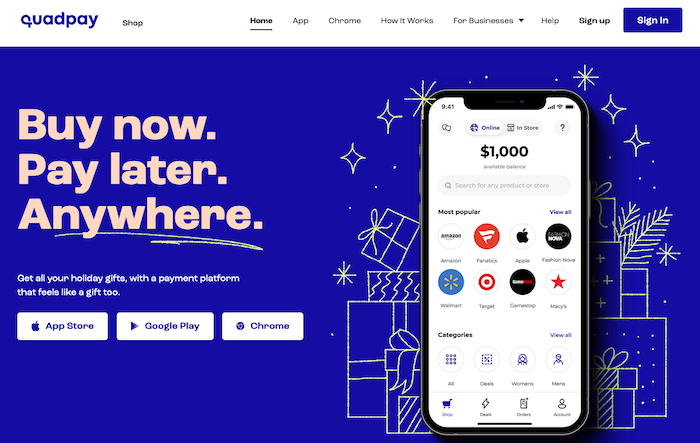 If you're looking for the best buy now pay later app for in-store shopping, look no further than Quadpay. This app operates a bit differently from your regular BNPL app.
Instead of buying via the app, you just tell Quadpay your location and how much you need to pay.
Quadpay provides a virtual Visa card for use at that store in seconds. You can also use this app online. It's accepted wherever Visa is accepted.
Quadpay follows the usual pay in 4 plans, and it only indicates soft credit pulls and charges 0 fees and interest for on-time payments.
Pros:
No fees and interest when you pay on time
Perfect for both in-store and online shopping
You can use it wherever Visa is accepted
Cons:
Every order must be approved by Quadpay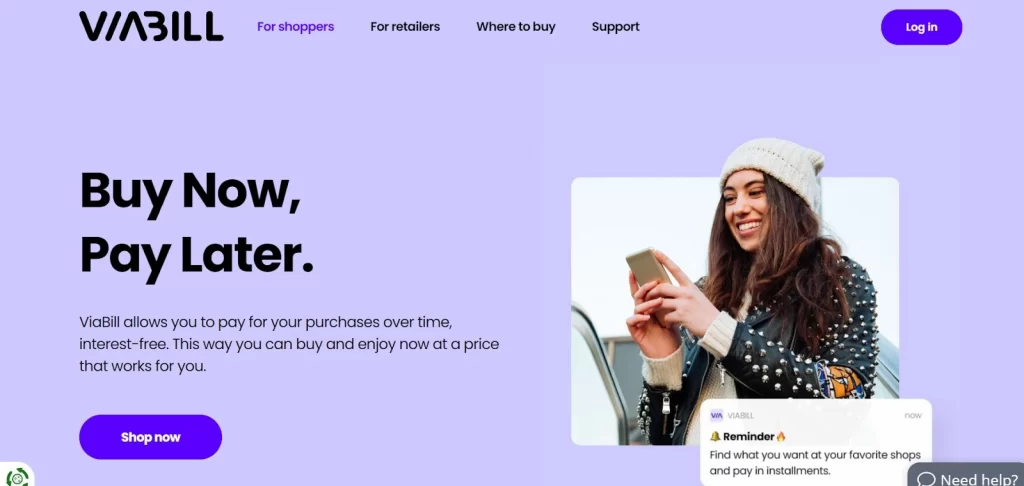 You can shop with ViaBill in over 5,500 merchants. Just enter your personal details such as your credit or debit card number, phone number, and email to get approved at checkout.
Keep in mind that the approval occurs in real-time. Once approved, you can split the total amount into 4 equal monthly payments. The first one should be completed at the point of purchase.
ViaBill is similar to the rest of the buy now pay later apps, especially Klarna. However, unlike most BNPL, this app doesn't require any credit checks which is amazing!
Pros:
Approval at checkout
No interest rate and no credit check
Regular pay in 4 plan
Cons:
Limited communication and merchant support
Possible problems with support for international users
Very complicated refund policy and process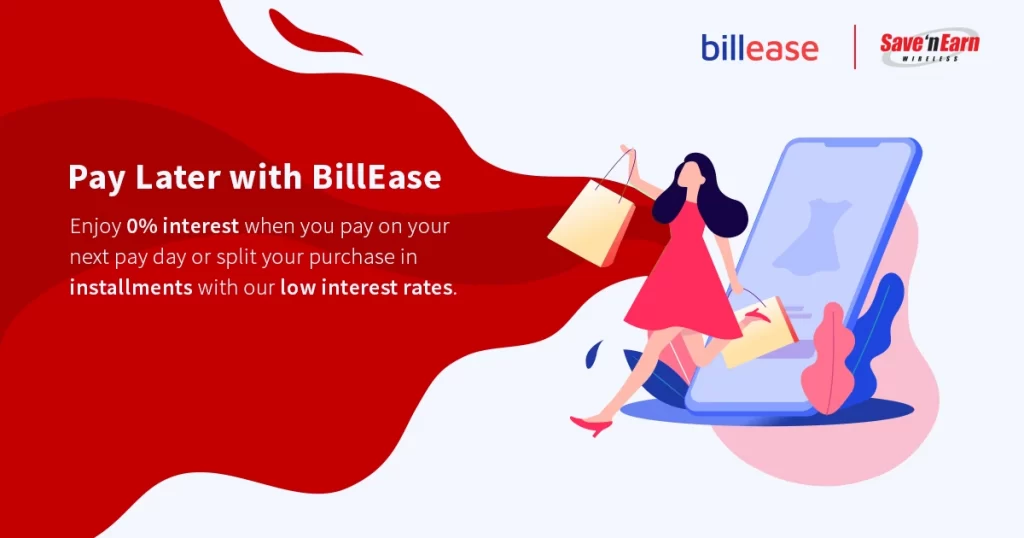 If you're searching for the best buy now pay later app that operates both inside and outside the US, then Billease is the most suitable choice for you.
Billease operates in the Philippines. Therefore, if you live in the Philippines, you should definitely give it a try. It's similar to Affirm because while some retailers give a 0% interest rate, most retailers on this BNPL app ask you to pay interest (3.49%).
Once you sign up for a Billease account and get approved, you'll be set a credit limit that you can utilize to purchase anything through Billease.
You can then pick your payment plan (2, 3, or 6 months). Once you select the preferred plan, your payments will be divided.
Pros:
No credit cards
Convenient installment plans
Easy application
Cons:
You're limited by a partner establishment
You can only borrow up to a certain amount
The repayment period can be short
BNPL App Shopping Tips
When shopping for anything online, there's a range of buy now pay later apps you can use, so finding the right app for you can be a challenge.
Hopefully, these shopping tips can help you find the best buy now pay later app for your situation and preferences.
Consider Your Credit Score
If you have a poor credit history or a bad credit score, it may make sense to choose a buy now pay later app that doesn't do a credit check.
Does The App Help Build Credit?
Some of the buy now pay later apps report their customers' positive payment history to the major credit bureaus, helping you improve your credit score.
If you're working on your credit at the moment, you'll benefit from your on-time payment if you opt for a considerate app that does reports to the credit bureaus.
Where is The App Accepted?
When you're enrolling for a BNPL account, picking one that's widely accepted at different stores you buy at will prevent you from opening multiple accounts and expand your options.
What's The Maximum Credit Limit?
Keep in mind that every buy now pay later app offers a different credit limit.
Depending on the size of your order, having a bigger credit limit can make the difference between being able to proceed with transactions or not. PayPal, for instance, has a limit of $600.
That said, if you plan on making larger buys, pay attention to the credit limit.
Fees and Interest Rates
Last but certainly not least, pay close attention to the late fees and interest rates.
Review these details before opening a BNPL account and determine if there's a fee for utilizing the app, making a payment, losing track of payments, or making a late payment.
You'll also want to consider if you'll be charged interest when you make payments on time.
The Takeaway
As long as you don't miss a payment, most of the best buy now pay later apps in this article won't charge you any fees or interest.
They all provide a safe and convenient way to pay for people's purchases without hidden fees and interest.