Most Trusted Top 10 Women's Online Clothing Stores
Women love looking good all the time by wearing beautiful clothes, shoes, and jewelry. Many online shops where women can get fashionable clothes include online stores, supermarkets, and fashion shops. Online shops are becoming very popular as people prefer shopping while at their homes' comfort instead of walking or driving to the shopping centers. That is why I bring you the top 10 women's online clothing stores to have an easy time getting your attire.
An online store requires you to have internet access plus internet-enabled devices such as smartphones, tablets, and computers. Thus, you can access the shops to view various kinds of women's clothes to choose what pleases you. All the details concerning the clothes are usually available for review. You can view the description that includes clothes color, materials, size, the suitable occasion to wear the clothes, how to wash it and so on.
Since online shops do not directly contact you as a buyer, most of the activities are online. These include ordering and paying for your goods. However, some stores may allow you to order online and pay on delivery if you get such a chance, the better since you can reject an item if it is not the right one you had ordered for without having to struggle for refunds or replacements.
How do online stores accept payments?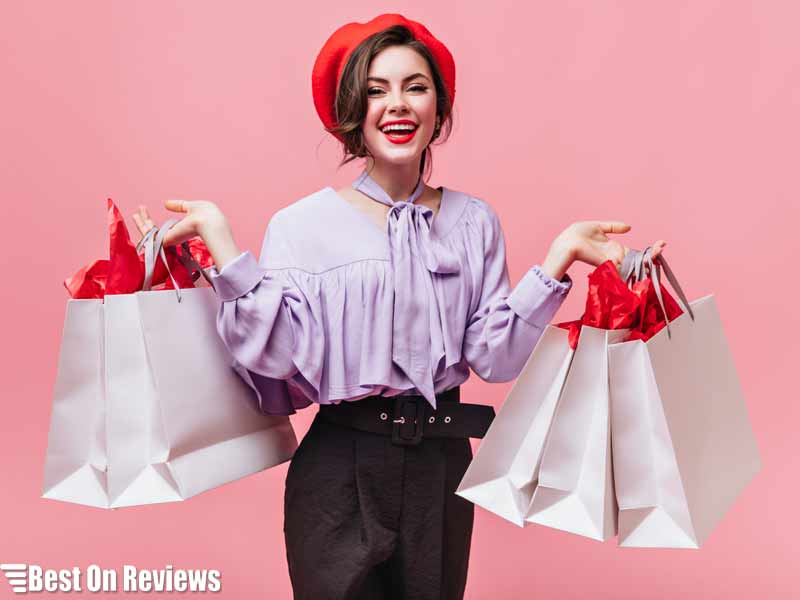 As I have mentioned above, most online stores allow you to only pay online before delivery. However, some allow payment on delivery. Now, whether pay on delivery or pay before delivery, online shops accept various methods of payment. These include;
Use of payment cards such as debit, credit, or prepaid cards.
Via mobile wallets such as PayPal, Payoneer, Google Pay, Skrill, Cash App, Facebook Pay, etc
Via checks
Via banks
Some of the clothing stores that accept checks online include Amazon, Walmart, QVC, and Eastbay. As for Amazon, you can choose 'Pay by Check' when checking out and then send the check to Amazon for the total amount for the item you are purchasing. However, the commonest method of payment is by using payment cards and especially debit cards.
You should note that when paying online using payment cards, it is very risky to use public WiFi to make such payments. Public WiFis are open to attacks by hackers, and someone can easily read your card information, thus stealing from you. Cellular internet connections are the most appropriate.
How long does an online order take to reach your place?
While some orders can arrive the same day if you reside near the concerned company's distribution stores, others can take two days, three days, a week, and so on. For instance, if you order an item from a company that has to import it on your behalf, it may take even three weeks or a month.
Most importantly, you have to check on the expected delivery date when purchasing your clothes to avoid embarrassment if you need them within a short period. You should get the dressing from a local fashion store if the online store cannot meet your deadline.
Is it safe to order online?
Yes. It is safe to order online but from reputable companies such as Amazon, eBay, Walmart, and the rest. There are lots of illegitimate sites that claim to sell items online to steal your hard-earned money. That is why I decided to write about these online shops so that you can be sure which ones are legit and not.
If you buy from well-known companies, you will receive your goods and in good condition whether you paid online or have to pay on delivery. Furthermore, you should not worry about getting the exact item you saw online, as you can reject it if you do not like what you receive.
Interestingly, others allow you to buy now pay later no credit check instant approval if you do not possess adequate funds to purchase the clothes. You can then agree on how you will be paying until you complete paying the whole amount of money.
Lastly, on safety, online stores have mechanisms to protect you from online threats when entering your payment details by offering secure payment platforms. However, it does not imply that any network is okay to pay online. Use online secure internet connections.
What are the pros of buying clothes online?
Numerous advantages come with paying for goods online. They include the following.
i) Lower prices
In most cases, clothes sold online are cheap compared to those sold in local fashion stores. Many discounts emerge now and then, and you can find yourself saving significant amounts of money.
ii) You can save time
Shopping online requires you to hold your phone and visit the sites at the comfort of your couch. You can also buy your clothes as you work in your office. Once you finish shopping, then the delivery team brings them to your preferred place for pick-up.
iii) Return policies
It is easy to return clothing that does not meet your wishes. It is contrary to most physical stores that do not accept goods once they sell them. When you return, you can decide to get a replacement or a refund for your money.
iii) Quality
Since the online shopping sites want to keep a good name, they always stock quality clothes to ensure that they retain their customers. Therefore, what you see online is what you get if you buy from genuine sites.
Which are the most trusted top 10 women's online clothing stores?
The following are the top 10 stores that you can get quality clothing. Have a look.
1) Amazon
Amazon is the largest online shopping site serving millions of customers across the world. The company mainly operates from Seattle, Washington, in the US. According to 2020 statistics, the company has more than 1 million employees who help in its day-to-day running.
Amazon sells various women clothes ranging from skirts, dresses, blouses, tracksuits, and jackets. For you to buy from Amazon, you have to create an account with them.  You only need to enter your name and a valid email address, then create a password. Once your account creation is successful, you can then login and buy items. You can add as many things to your cart and then check out to order as a single order.
2) Walmart
Walmart is also an American company that operates a chain of stores in America. It sells various kinds of items, women's clothes included. The company has been around for a very long time as it started in 1962. You can be sure that it is a legitimate company since it has survived all those years.
In terms of revenue, statistics show that the company was the largest worldwide in 2020. However, currently, Amazon holds the top position. Walmart accepts payments with cards such as credit, debit and prepaid, checks, PayPal, and cash. Just like Amazon, you need to create an account to order and track your items until they arrive at your place.
3) Boohoo
Boohoo is one of the few sites that you can get clothes at very low prices. The company mainly operates from the UK but has branches in the United States. You can get women's clothes such as dresses, trousers, and casual wear such as denim and leggings. You need to create a Boohoo account to begin shopping for your favorite clothes. You can also check their latest fashion on their social media pages such as Instagram, Twitter, and Facebook.
Boohoo allows you to pay via the Clearpay method. Once you finish shopping and would like to check out, then you select Clearpay, and the server will direct you to open a Clearpay account. If you have one, you will need to login and continue with your payment. You can pay with Visa or Mastercard.
4) Lululemon
Lululemon is an American clothes shop that operates online. It has its headquarters in Vancouver. The company mainly sells sports clothes and women can easily find the most elegant tracksuits here for their regular exercises. You do not have to go jogging with jeans as you will not be able to stretch effectively. Sports clothes available include those for yoga, running, and working out. Most of these clothes can absorb sweat and thus make them the most suitable clothes ever.
Lululemon clothes are mainly expensive but are of high quality. You will use them for a long time. You can pay for your order online using gift cards and other cards. You can also buy clothes and pay later if you lack enough money to make a one-time payment.
5) Ruelala
You can easily create an account with Ruelala and start enjoying the lowest prices ever. The company claims to offer up to 75% discounts on clothes. Here, you can get dresses, skirts, shirts, sweaters, outerwear, denim, suits, activewear, and pants, among others. All the clothes are authentic, and you can be sure to receive high-quality clothes. The company also does international shipping, and you can buy clothes from other parts of the world other than the USA.
You can pay using credit cards and debit cards from Mastercards, Visa, Discover, or American Express. The payment platform is very safe, and you can be sure that your card details will remain secure. 
6) Athleta
The company started in California in the year 1998 to sell women's and girls' attire. You can get tights and leggings for your exercises. Women's clothes for yoga, swimming, and hiking are all here, and you can get them at various prices and in multiple sizes. You can create an account and shop the most favorite cloth.
Furthermore, the company has social media pages such as Facebook. Instagram and Twitter, where you can follow them for the latest fashion. Athleta also has the Athleta credit card, whereby you can log into your card account and make online payments. The card also allows you to grow your FICO Scores.
7) eBay
I will be biased if I do not include eBay in our top 10 online stores for women's clothing. The company's headquarters are in San Jose, California. eBay is a safe platform when it comes to buying and paying online. When purchasing any cloth from eBay, you need to perform due diligence about the item since the company tends to side with the buyers if issues arise.
eBay offers free shipping on many items, and you may be lucky to order your clothes and pay zero delivery fees. All kinds of women's clothes are here, ranging from dresses, skirts, tops, sweat pants, and many more. When it comes to payments, you can pay using Visa or Mastercard payment cards.
8) Asos
Asos claims to offer a discount on every item you add to your cart. The online retailer sells various kinds of women's clothes. You can create an account to shop online. All you need is your name, email address, phone number, and password.
The women's clothing you will find at Asos includes Tops bottoms, jeans, shorts, dresses & Jumpsuits, loungewear, jackets, accessories, and Socks. You can pay with payment cards or even choose the Afterpay service to pay in installments. Afterpay gives you an opportunity to pay for your item in bits until you complete your payments. Therefore, you do not need to have the total costs for attire from Asos.
9) American Eagle Outfitters
The company is currently offering 50% off clearance plus an extra 10% off on the clothes you buy. Jeans and shorts now have 25% off, and you can rush and log into the site to purchase a good number if you need some. You can also get dresses, tops, skirts and many other kinds of women clothes.
If you are always interested in the new arrivals, you can always find the company interesting since they constantly stalk new clothes for women. The company also allows you to earn rewards when you shop with them. You can also sign up for email and text alerts to get news about the newest fashion.
10) Etsy
I am closing the top 10 list of the top online stores for women's clothes with Etsy. You can get T-shirts, blouses, crop and tube tops, among other kinds of clothes. You can be lucky to get a special offer and free shipping for your items, so be on the lookout. The company ships internationally, and you can order from outside the US or order for someone outside the US.
Since it is a platform that brings many sellers together, you can create an account and sell clothes via the platform. Buyers also need to create accounts to purchase their favorite clothes and make secure payments. Etsy accepts payment options such as PayPal, credit and debit cards, Google Pay, and Apple Pay.
Bottom line
There are numerous online shops for women's clothes. You can buy clothes, pay online and allow distributors to bring them right to your home. You may be lucky to get discounts at some sites. Furthermore, it is easy to get an Afterpay service to pay for your clothes in bits until you complete them. You should make sure that you buy goods from reputable online companies to avoid losing money to fraudsters. The pay-on-delivery option is the better option.