If your package at the door has ever been stolen or maybe your vehicle vandalizes while in the garage or driveway then most of the time the perpetrator is long. You end up getting to see the aftermath that happened right under your nose and you are totally surprised. What's more disturbing is that you don't get to see the perpetrator and go away scot-free. If you are a victim of this then it's time to invest in an ideal NVR camera security system.
Getting the right security systems is ideal especially with the rampant cases of robberies during holidays. With ever-advancing technology, there are various DIY home security systems with no monthly fees that you can install in a matter of minutes. Unlike the old security systems, the current home security systems allow you to install yourself with easy steps hence no need to hire a professional to do it for you. Most of the home security cameras come with exclusive features and there is no need to get professional monitoring as you get instant mobile alerts via the company's mobile app.
At the moment the market is flooded with various models of security systems and it can be confusing especially if you haven't done extensive research on the devices. You need to be keen to get the best outdoor security cameras as sometimes you might get a counterfeit product. Read on to find the various models that you can opt for and the features each has to offer. Also, you can check out an article on the best no monthly fee home security system to check out other ideal models.
What is the difference between NVR and DVR?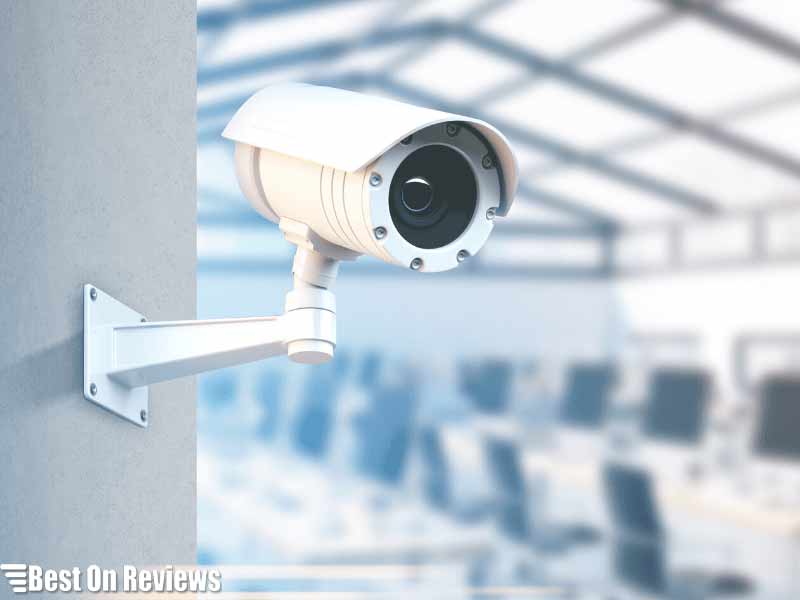 As you go shopping you may note that you will have to choose the difference between NVR and NVR security systems. To avoid such confusion, it is ideal to know the difference between NVR and DVR security systems.
Digital Video Recorder (DVR) and Network Video Recorder (NVR) have similar working but have a difference. The NNR systems encode and process the video data at the camera and then stream it in the NVR recorder for storage and remote viewing.
For the DVR systems, it processes the video data at the recorder. Also, NVR uses IP cameras while DVR systems work with analog cameras. The DVR systems solely are wired security and NVR systems can work both wired and wireless.
Benefits of NVR security camera systems
The NVR security camera integrates the latest technology giving you enhanced security systems. Also known as POE security cameras are more flexible than the outdoor wireless security camera with DVR. Here are some of the benefits you get from the NVR security camera system.
i) Cable
The NVR systems use standard ethernet cables to transmit data. The good thing about this is that the ethernet cable powers the camera using Power Over Ethernet (PoE), reducing the wiring needed and keeping the place installed tidily. The ethernet cable is thinner and smaller hence easy to route and terminate, reducing the drilling activities.
ii) Flexible
The NVR systems allow one to access the live footage with ease as you don't have to physically connect to the recorder as it is already paired.
iii) IP cameras
Unlike the DVR systems, the NVR security camera systems process data at the camera instead of at the recorder. Powerful IP cameras come with smart functions such as facial recognition to have ample evidence in case of an incident with intruders.
Top 7 best NVR security camera system
1) Hiseeu Wireless Security Camera System
Sale
Hiseeu is an efficient camera system as it enables IP cameras to give you smooth HD at a low bandwidth in turn reducing the network letting you save up to 50% video storage capacity. It comes with a pre-installed 1TB hard drive that supports 24 hours with more than 30 days of reliable video recording.
It comes with wireless IP66 certified cameras with audio and the cameras are paired with the NVR before shipping. You can remotely view live footage coverage on your smartphone via the EseeCloud app both in Google Playstore and Apple Appstore.
PROS
HD video
Remotely view the recordings
IR night vision
1TB hard drive
IP66 certified product
2) SmartSF 8CH Wireless Security camera System
SmartSF provides you with instant alert on your mobile app once motion is detected. You can download their free app "IP Pro" via QR scan and through it, you can check the live view and playback anytime on your smartphone.
It comes with adjustable settings letting you customize which area of the camera will trigger an alert and send you the live footage reducing false alarms and focusing on the real deal.
It comes with IP66 metal weatherproof cameras and it is airtight against dust, moisture among others, and can endure in harsh weather conditions.
PROS
IP66 metal weatherproof cameras
Easy to set up
Instant mobile alerts
An efficient motion detector
Strong signal
3) PVO Surveillance Home security camera system
PVO surveillance security system is a plug and plays as the wireless camera is paired with the NVR system as the factory. The system is ideal for office, home, shop, hotel, and other places to keep you safe. It is an ideal outdoor security camera as the cameras are IP66 weatherproof cameras ensuring you monitor your residence even in harsh weather conditions.
Check up on your front porch during the night as it comes with infrared LEDs to illuminate to up to 65ft away.  You can add four more cameras to total the 8-channel NVR system and cover the blind spots.
PROS
Plug and play
Motion detection
Robust quality
8CH expandable system
Remote access
4) Arlo Pro 3
Sale
Arlo Pro 3 comes with an integrated spotlight that lights up your backyard or front door and scares off intruders and pests. The cameras are of high quality as it comes with a zoom-in feature that lets you focus on objects and see clearer details and colors.
It comes with a wider field of view of up to 160 degrees to keep an eye on what matters. You can create custom activity zones to focus on important areas around your residence. You get to enjoy 30 days of cloud storage allowing you to view recorded videos and audio anywhere anytime.
PROS
Cloud storage
Package detection
Integrated spotlight
Wide field of view
2K and HDR videos
CONS
You are required to pay an add on service to store 2K videos
5) SafeVant Security Camera System
Sale
The Safevant Camera system comes with both cameras and NVR paired at the factory reducing the struggle of having to connect the NVR and camera. The system works efficiently without any internet connection as both the system and camera transmit signals smoothly.
It comes with efficient motion detectors and you can customize the motion detection areas such as windows, doors where needed. Once triggered, you receive an alarming email. It supports 8 channels simultaneously live viewing through your smartphone.
PROS
Remote playback
Auto pair
IP66 weatherproof cameras
Easy to set up
Instant mobile notifications
6) Anpviz POE Security Camera System
You can install the Anpviz security system as it lets you mount it to a simple place with any indoor or outdoor environment either on the wall or ceiling. No need to worry about harsh weather conditions tampering with it as it has an IP66 certification hence it can withstand extreme temperatures and resistance to dust and rain.
Enjoy a wide view angle of up to 108 degrees as it comes with a 2.88MM lens letting you view the area with no blind spot. The NVR system can work efficiently with or without the internet to have both live viewing and local recording.
PROS
Plug and play
Smart motion detectors
In-built mic and speakers
Smart playback
Remote access
7) Swann Security System
Sale
The Swann Camera security systems come with warning lights that light up when heat and motion are detected helping you scare off intruders at your residence. You can control the Swann system by issuing voice commands as it is compatible with Google Assistant and Alexa.
You can stream video from your camera via Google Assistant and Chromecast, Google Home Hub, or Alexa devices. No need to worry about the weather conditions as the cameras are weatherproof hence you can monitor your home even in harsh weather conditions.
It comes with night vision with the help of the sensor warning lights and in case of any incident, you get enhanced evidence.
PROS
Bright warning lights
Remote access
Easy to set up
Advanced motion detectors
Weatherproof
CONS
Short-range detection distance
Wrap up
Just like any other computer system, the security systems are vulnerable to hackers who will alter the videos or audio at times. To avoid such a situation with your NVR security camera system, ensure that you come up with a unique that contains special characters, alphanumeric to keep the system secure.
Also, ensure that you can connect the system to a safe home network to avoid leakage of the footage of your residence. We strive to give our esteem readers ample advice when approaching a certain product after extensive research and get the ideal product. Hope I've answered your burning questions in regards to outdoor wireless security systems with NVR.