Many people keep valuable items such as money, gold, clothing, and so on in their houses. It explains why a reliable door lock system is essential to secure such houses. Getting an automatic door lock system for home ensures that your house is always secured. Even if you forget to lock the door, the automatic door lock can automatically lock after a specific time if no one seems to close it.
Most automatic door locks are easy to control since they can connect to the internet using WiFi. You can control them even when a thousand miles away as long as you have a stable network connection. Some of the lock systems can send you pictures and videos of the surroundings since they have cameras that can record whoever is around your house entrance in real-time.
The best door locks for home security can even send you alerts of forceful entry by detecting the intensity of force someone is using to access your house. Moreover, most automatic lock systems allow you to create access keys for several people who have the authority to enter the house any time they need to be inside. At the same time, you can revoke any key issued to any user.
Are Automatic Door Lock Systems Secured?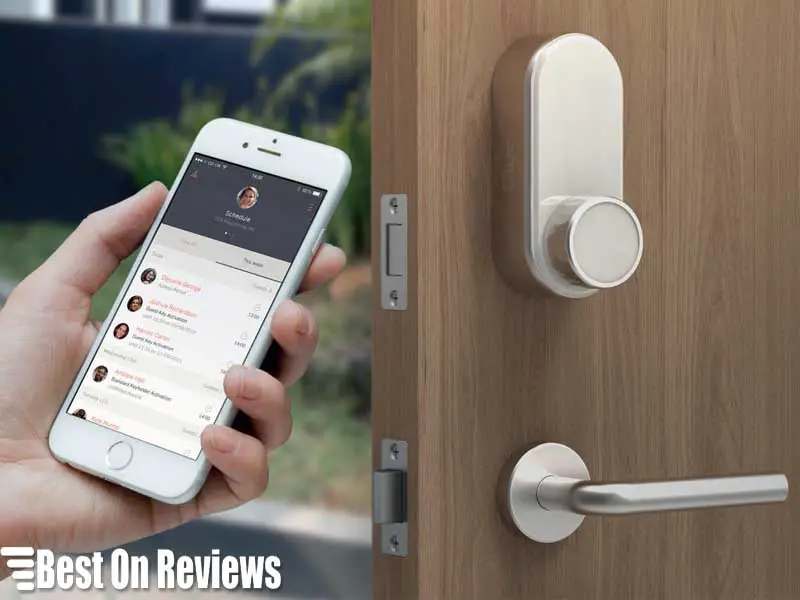 Automatic door lock systems are secure to some extent. The fact that you can receive live videos and alerts on any kind of forceful entry into your house makes them reliable. In addition, automatic door lock systems do not rely on physical keys only but mainly virtual ones whereby you can enter a particular secret number combination to open the door.
Secondly, most automatic door lock systems have secret cameras that can capture any intruder's video and image to alert you on who is trying to enter your house. Even when someone succeeds in breaking into the house, you can still follow them for arrests since you have the video details with you. A smart door lock with a camera should be your priority when looking for an automatic door lock system.
Another thing that makes the lock systems reliable is the ability to manage access to your house. You can create virtual keys for various house users. Moreover, if any of them is opening the door, you can receive an alert at the exact time. If anything happens in the house like loss of items or destruction of any value, then you can know who to ask since you have the records.
Also, some automatic door locking systems have an alarm system that can alert your neighbors of anyone trying to enter your premises, thus helping you to keep away thieves. That is only effective if you live with several people around you.
For adequate door security, you should also include battery operated wireless security cameras around the house entrance so that they can maximize your house security since they can send you to live pictures of anyone entering your house as long as they are WiFi enabled. The door lock system should also depend on a rechargeable battery so that it can operate 24/7 even when there is no electricity.
Which Are The 9 Best Automatic Door Lock Systems for Home?
If you have been looking for an automatic door lock system, then you are in the right place. The following are the nine best-automated door lock systems that will guarantee you the security of your home.
1. August Home AUG-AB02-M02-G02 Dark Gray August Doorbell Cam Pro
The lock system works with Alexa. You can use voice commands to operate the system without having to touch it. You have to buy the Alexa device to be able to use it. Moreover, it can send you alerts and HD videos since it has a camera. Therefore you can view any happenings around your door even several miles away.
Moreover, the August Doorbell system records videos for future reference. You can subscribe to a monthly premium service that helps you to record and save videos. Again, with the device, you can open the house for guests even when you are far away from the house. Lastly, the device is easy to install. Although it is not new, it is working very well.
PROS
Video alerts
Works with Alexa
Remote access
Easy to install
Integrates with existing wirings
2. Schlage Lock Company BE469ZP CAM 716
The door lock system is Z-Wave Plus enabled so that you can control it over the internet over a secure connection. You can easily manage it using your smartphone so long as you have a safe and stable internet connection. It also works with Alexa.
Also, the system is easy to install using just the screwdrivers. The unique Snap Stay technology snaps the deadbolt onto the door in a special manner that makes it fit firmly. Again, using the fingerprint-resistant keypad, you can create up to 30 keys. Interestingly, the built-in alarm system senses any forceful entry into your premises.
PROS
It works with Z wave technology
Built-in alarm system
Easy to install
It allows up to 30 keys
Works with Alexa
3. ULTRALOQ U-Bolt Pro Bluetooth Fingerprint and Keypad Electronic Smart Deadbolt Door Lock
Sale
The system has an ant peep keypad. It ensures that no one can master your key as you open your door. Moreover, the door system is easy to lock remotely. It can connect to the internet and thus allows you to operate it using a smartphone. Open the door to your guests even when far away.
Again, your connection to the lock system is highly encrypted to prevent unauthorized access to your data. With this lock system, you can share a key to other trusted users.
Again, it comes with a micro USB power bank to activate your lock if there is no power. Above all, it is easy to install. It also comes with a mechanical backup key.
PROS
Ant peep keypad
Easy to install
Backup power bank
Mechanical key
Allows key sharing
4. Prodigy SmartLock MaxSecure Interconnect Commercial Grade Lock
Prodigy SmartLock MaxSecure Interconnect...
KEYLESS FREEDOM: The only 2 Keyless Locks in 1. Provides the...
MAXIMUM SECURITY: Double lock security comes with toughest,...
BEFORE PURCHASE: You must measure the center to center...
The lock system is not new. However, Amazon technicians have ensured that it is functioning well, just like a new one would do. It has a fingerprint-resistant keypad and allows you to program 400 keys for access by different people. It also comes with a manual key for back
up opening.
The system is robust and durable as it has strong materials as the main components. It can resist extreme temperatures as well. In case of fire exposure, the lock remains active. It is also weatherproof.
Again, the system is easy to unlock. Just use the readily available tools such as screwdrivers to fix it. After all, it can fit in various doors sizes.
PROS
It is easy to install
It is weatherproof
Fireproof
Allows key sharing
Mechanical backup key
5. Schlage FE595VCAM716ACC FE595VCAM/ACC 716 Keypad Accent Lever Door Lock, Flex, Aged Bronze
Although the system is not new, it is functioning very well. Amazon technicians have done a lot of examinations to ensure that it is working well. The device is easy to install. It is a one tool installation Door lock that will not disturb you. It is suitable for a door thickness range of 1-3/8 to 1-3/4 inches.
Moreover, the keypad illuminates at night so that you can key in parameters easily. Furthermore, it has six programming keys so that you can add and do delete keys for other users.
Again, the door lock system comes with two-4 code access keys pre-set at the factory for immediate use. In addition, it comes with a 9v battery.
PROS
Easy to install
Comes with two preset keys
9-volt battery
Compatible with various door thicknesses
Keypad illuminates at night
6. Schlage FE595VCAM619ACC Camelot Keypad Entry
The door lock system is not new. However, do not worry about that since it is working well. Also, it is suitable for various door applications. Fix it on a garage door, office door, or even on your house door and enjoy its high security features. You will not need to program it since it comes with two user codes preset at the factory.
Interestingly, the door lock has a reversible lever to use with doors that open either right or left. Again, you can quickly add and delete keys to allow or deny access to your premises to specific individuals. Also, it is easy to fix using readily available tools. Above all, it has a keypad backlit and a low battery indicator.
PROS
Easy to install
Low battery indicator
Two factory preset keys
Keypad backlit
Easy operation
7. ZKTeco Smart Keyless Door Lock
The fact that the device is Bluetooth enabled means that you can operate it hands-free so long as you are within a radius of 30 meters. Moreover, you can manage it over the internet using a unique app.
Also , you can create one time keys for visitors which can only open once and becomes irrelevant after that. Again, you can generate keys for regular users of premises and monitor who enters your house or office.
Installing the system is easy. If you find using the manual difficult, you can search "ZKTeco DL30B" on YouTube and watch the video on how you can install the lock. It also has a backup mechanical key.
PROS
Bluetooth enabled
One time keys for visitors
Easy to install
A mechanical key for backup
Remote access
8. Samsung SHS-H705-FMK Biometric Digital Door Lock
Although the lock system is not new, it is working excellently. It has a biometric screening whereby you can register your fingerprint to always open without having to memorize any key. Another attractive property with this lock is the away mode.
When you are traveling for several days, you can activate the away mode so visitors can know that you are away. The screen is a touch one whereby numbers display on the screen so that you touch to key in.
It is thus long-lasting as number keys do not wear out. Again, it has a low battery indicator as well as screen light to show numbers at night. When the power is down, you can use the backup 9V battery.
PROS
It has a touch screen
Away mode
Biometric system
Low battery indicator
Backup 9V battery
9. Ultraloq UL3 Fingerprint and Touchscreen Keyless Smart Lever Door Lock
Sale
The lock system is 3 in one whereby it accepts fingerprint, code, and a mechanical key. If one method fails, you can try any of the remaining two options. The door lock can record up to 95 different fingerprints.
Again, it is both dustproof and waterproof. It has a touch screen that displays numbers for keying. It can support 95 keys.
Interestingly, the keyhole is invisible to secure it from keyhole hackers. Again, the battery is long-lasting as it can allow 8,000 access times. Also, the lock has three locking modes, which are auto relock, privacy lockout, and free passage. It is easy to install.
PROS
Allows fingerprint, code, and key
Three locking modes
Easy to install
Dustproof and waterproof
Hidden keyhole
Bottom Line
Installing a secure locking system is very important to ensure that your belongings in your house are safe. Automatic door lock systems are very efficient when it comes to house doors, as you can control them remotely.
Moreover, a good lock system should have several options to open it. It will be suitable if it has a fingerprint scanner, code as well as a mechanical key so that you can rely on one if the other ones fail to open.